Steve Kean departure leaves Blackburn needing to rebuild
Last updated on .From the section Football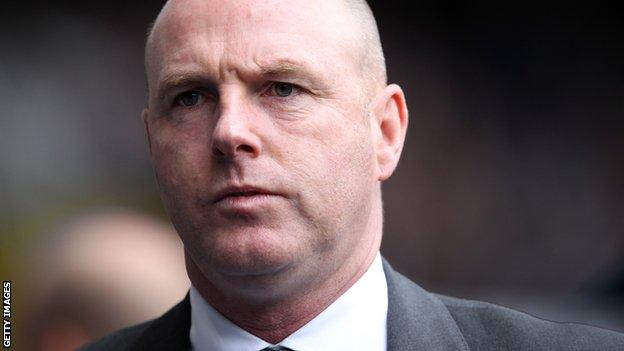 Steve Kean must have known the end was coming.
For too long the joke has been on Blackburn and their owners, poultry giant Venky's. Chickens came home to roost, the manager was in a flap - fowl play was never far away.
It is no laughing matter, of course. Kean's departure brings to an end a bleak and brutal period for this famous old club. Blackburn has torn itself apart from the inside over the past 18 months and although the protestors have finally forced change, there are no winners from a fight such as this.
Perhaps Kean will wake up tomorrow with a sense of relief. The war is over, he will no longer need a seventh dan in karate to protect him as he goes about his daily business and he will no longer have to live his life in the extraordinary maelstrom that has followed him since he took over from Sam Allardyce as manager in December 2010.
His life will no longer be played to a soundtrack of protest and pain.
"There has been an eerie silence at the games this season," said former Blackburn striker Kevin Gallacher.
"Even when they were winning the fans were chanting '2-0 and we want Kean out'. The fans were staying away in their droves and the club was stuck in a rut that they just couldn't escape from. It was almost as if everyone was waiting for him to go. Maybe now the club can move forward again and unite."
Kean grew up in football-mad east Glasgow dreaming of life as a manager. But even in his worst nightmares he could never have imagined the furious and personal protests that have been part of his life for the past 18 months. When results failed to live up to the expectations of the fans, not to mention Kean himself, it turned ugly.
Marches have taken place outside the ground, fans have hurled abuse from the stands. Kean's children, in particular his 13-year-old daughter, have even been jeered at school. The final days of his tenure at Blackburn have been as messy and disorganised as many had expected it would be.
First he was on the brink, then spared, and finally and painfully came the realisation that it was all over.
"For reasons that I cannot discuss on legal advice, it is with deep regret, given my hard work and service for the club for a number of years, that I have been forced to resign as manager of Blackburn Rovers Football Club with immediate effect, due to my position as team manager becoming untenable," Kean said in a statement on Friday.
"I wish to thank all the players and coaching staff for their great support and the majority of the fans, who now see their club heading towards an automatic promotion position back to the Premiership. I wish the club all the very best for the future."
Kean's appointment was met with suspicion the moment it was made.
There were those who viewed him as a stooge for the owners, who felt his rise to prominence had come as a direct result of his agent Jerome Anderson, the head of SEM, advising Venky's extensively during the takeover and in the first months of the new regime.
It was a feeling the Scot always struggled to shake, having been promoted from first-team coach to the top job. In his first season Blackburn slumped from 13th in the Premier League when Allardyce was sacked and only avoided relegation on the final day. They had finished 10th the season before.
The following season Kean was controversially rewarded with a new contract, only for the campaign to culminate in the most painful of relegations. On the night when defeat by Wigan confirmed Blackburn's drop into the Championship, a live chicken, decked in blue and white, was thrown on to the pitch.
It was a moment that encapsulated the feeling of mutiny in the stands. The fans had come to oust their embattled manager and send a message to the owners.
Venky's watched proceedings from their vast bungalow complex in the hills above the Indian city of Pune. The situation had become far worse than they had realised. Kean was summoned to a heated post-season debrief and asked to explain why he had failed to keep the squad in the Premier League. His position was reviewed and questioned. Guarantees and promises were made. But he survived.
Anuradha Desai, Venky's chairwoman, counts Kean and his wife Margaret as friends. Perhaps it was this relationship that prompted her to put faith and the ambitions of her football club into the hands of Kean once more.
And yet something had changed. The appointment of Shebby Singh as Blackburn's global adviser brought a greater attention to detail and scrutiny of Kean and his methods. The manager was told he must win 16 points from the first seven league games to guarantee his job. When he fell two points short, a decision was made.
The great irony for Kean is that he has left during his most successful period at the club. Blackburn are challenging for automatic promotion from the Championship, and yet somehow it has felt inevitable.
The debate about Blackburn must not start and end with Kean, however.
Venky's have questions of their own to answer having stood by their man during an 18-month nosedive that included relegation. The fans have never felt further away from their club, while sponsors, both shirt and corporate, are staying away in their droves, draining the club of money week after painful week.
Kean's departure presents Venky's with an opportunity. No-one has forgotten these are the owners who promised Champions League football within four years and delivered Championship football within two, while bidding for the likes of David Beckham and Ronaldinho and ending up with David Goodwillie and Anthony Modeste.
But if they can find the right manager to lead them back to the promised land of the Premier League, it would represent the first step in a long journey to redemption.