Theo Walcott must be patient over striker role - Arsene Wenger
Last updated on .From the section Football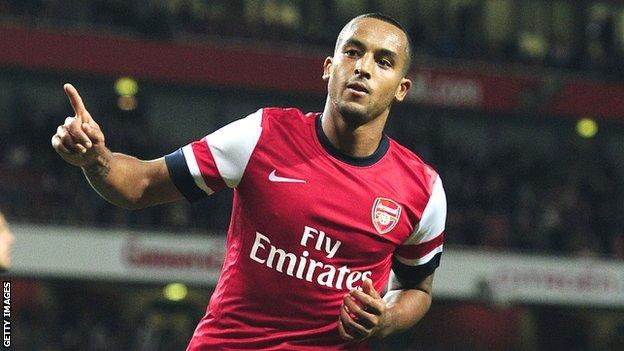 Arsenal manager Arsene Wenger says Theo Walcott must be patient in his demands to switch from a winger to striker.
"His time will come for that and at the moment we have to be a bit patient," said Wenger.
Walcott is in the final year of his contract and rejected a new five-year deal worth £75,000 a week in August.
Wenger admitted he wanted the England international to stay at the club and that talks are ongoing with the player.
"We want him to stay, I always said exactly the same," said Wenger. "We are all professional and I always said that lets hope we can extend his deal and that is part of every professional situation.
"I speak to Theo of course, we are always in touch with them [his agent] and you have to give us some time to try and sort that out."
Wenger, who employed Walcott in a wide role against League One side Coventry on Wednesday, said he was open to the idea of playing Walcott as a striker after seeing him score twice in the second half at the Emirates Stadium.
"I'm not against it [playing Walcott as a striker], I'm not against it at all but we try and at the moment there is big competition up front, we have a different formula and the team is doing well," said the Frenchman.
"He is a great finisher now, in front of goal he is really absolutely amazing."
On Monday, Walcott told BBC Sport about his desire to play as a striker.
"Playing up front is important. It's one of the main factors for me," said Walcott, who signed for £12.5m from Southampton in 2006.