Ahly Ultras pledge to prevent football resuming in Egypt
By Richard Fleming
BBC Sport
Last updated on .From the section Football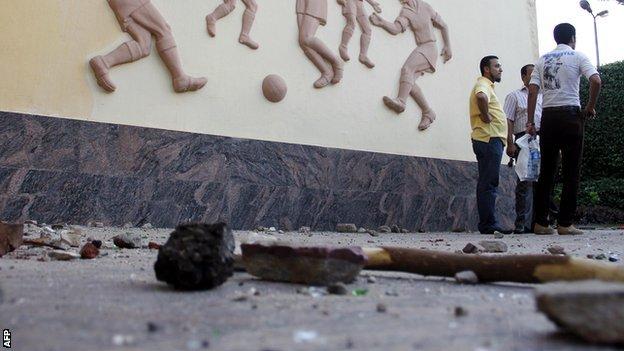 Fans of Egypt's leading club side, Al Ahly, warn they will do anything to halt the return of football until their demands are met.
The Egyptian league, which has been disrupted since a deadly riot in Port Said almost eight months ago, is due to re-start on 17 October.
But Ahly Ultras insist there be a change of leadership at the top of Egyptian football, who they deem responsible for Al Masry successfully appealing their ban from the top flight.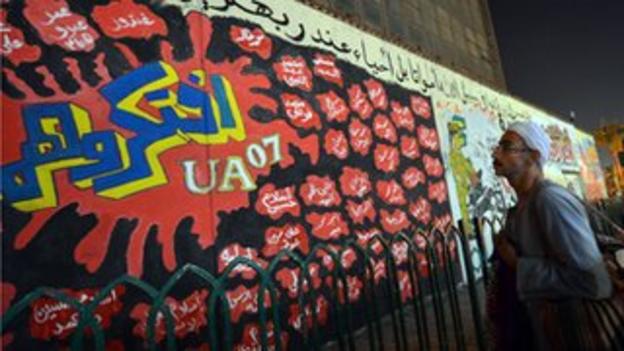 Ahly supporters were among more than 70 people who died, when Al Masry fans went on the rampage at the end of a match on 1 February.
A leading member of Ahly Ultras, who spoke on condition of anonymity, said: "First normal protests. Now we are face-to-face with the leaders of the game in Egypt.
"We will never let the football come back in Egypt unless the field is clean from corruption."
The league was due to resume on 17 September, only to be put back a month when angry Ahly fans stormed the club's training ground, before attacking the headquarters of the nearby EFA.
In recent days, with the new date looming, followers of Ahly have:
Attacked the club at Gezira, preventing members and players from either entering or leaving.

When the team moved their training to Nasr City, Ultras moved there too and again attacked the club and some of the players.

On Monday, they switched their focus to the media who have criticised them, attacking television studios.
The Ultras fan said: "We've had a long-term plan ever since the Port Said massacre, and we are considering everything.
"We're still peaceful. We're just letting everyone know we can do anything, anywhere and at any time for the sake of our martyrs."
Egypt's coach, Bob Bradley, has voiced his support for a resumption of the league, though he does understand the stance taken by the Ultras and other supporters.
Speaking at a news conference on Wednesday, he said: "As coach of the national team the league is very important.
"We must be optimistic that the league will start and that the players will be back playing every week."
The former coach of the USA added: "Following the tragedy in Port Said, the emotions months later are still strong.
"I hope and wait to see if there can be a way for people to move forward but I understand and respect everything that has gone on."