Paul Jewell reassured by Harry Redknapp phone call
Last updated on .From the section Football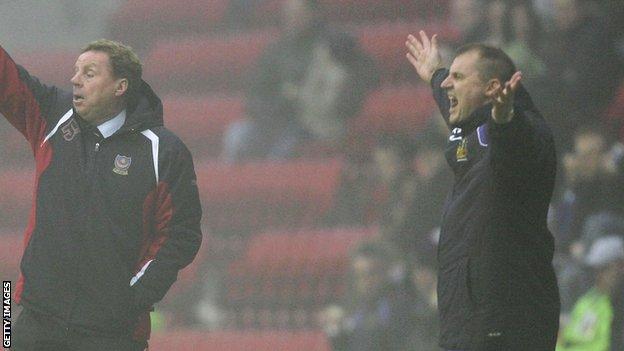 Ipswich boss Paul Jewell has revealed Harry Redknapp telephoned to reassure him that he was not interested in his job at Portman Road.
Former Spurs manager Redknapp has been linked with Ipswich after the Suffolk club's poor start to the season.
Jewell told BBC Radio Suffolk: "Harry rang me last Sunday and said there was abolutely no truth in it.
"The only worrying thing was at the end of the conversation he asked me what the best areas to live were."
Jewell continued: "The last time I saw Harry, I was with [Ipswich chairman] Marcus [Evans] in Portugal.
"I said: 'You didn't have to make the phone call, Harry, because if Marcus was going to make a change, I think he'd tell me first' and it was fine."
Ipswich are currently next to bottom in the Championship after taking just five points from their first seven matches.
Jewell has insisted he will not walk away from the job, but has not been helped by an injury to recent signing Paul Taylor, which will keep him out for several weeks.
The former Peterborough forward has a broken bone in his foot and Jewell admitted: "It's not going to be short-term.
"There are two scenarios; the worse case is that he'll need an operation but we're going to treat it conservatively and it might be six to eight weeks, that's the best we can hope for at the moment."
Fellow striker Michael Chopra is also unlikely to be fit for Saturday's game against Barnsley because of a minor tear in a thigh muscle.
Meanwhile, Jewell is continuing his search for new faces to add depth to the squad, with former Tottenham and Portsmouth defender Ricardo Rocha the latest to have a trial at Portman Road.
"He's a steady Eddie, a good professional and I'll be speaking to him," added Jewell, who confirmed that the club would not be offering a deal to another recent triallist, former Bolton and West Brom centre-back Abdoulaye Meite.