Portsmouth manager Michael Appleton does not fear sack
Last updated on .From the section Football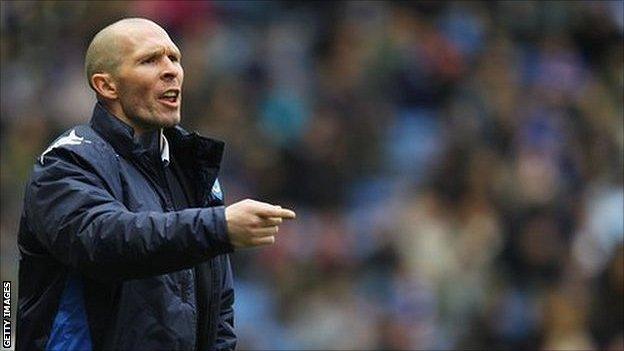 Portsmouth boss Michael Appleton says he does not fear the sack if Balram Chainrai's Portpin takes over the club.
Portpin and the Pompey Supporters' Trust are vying for control of the financially-troubled club, who have been in administration since February.
In August, Appleton was highly critical of Portpin's plans to significantly change his transfer budget.
"I do not fear for my future here at all, not in the slightest bid," Appleton told BBC Radio Solent.
Appleton called Chainrai "unprofessional" after having his budget of £4m for new player acquisitions changed to around £1.5m.
But Appleton says he is not worried that those comments could lead to him being out of a job.
"At the end of the day, there will always be a job out there for Michael Appleton," he said.
"Why do I say that? Because I can look myself in the mirror every single day knowing I've given 100%. I work as hard as I possibly can on the training field with the players.
"So I am not worried about that in the slightest bit.
"The comments I made about Portpin back in August were backed up by lots of people.
"Those differences have been sorted out, we are where we are and the club needs to come out of administration and hopefully the person who takes over has the best interests of the club at heart."
BBC Radio Solent understand that Portpin is administrators PKF's preferred bidder to take over the club.
But Appleton says he just wants the club out of administration so he can get on with the task of building a team to keep them in League One.
All of Pompey's senior players are either on loan or on one-month contracts only.
"It's difficult for me to comment on who I think are the right people to take over the club. I just want the club out of administration," he said.