Graham Westley planning to utilise full Preston squad
Last updated on .From the section Football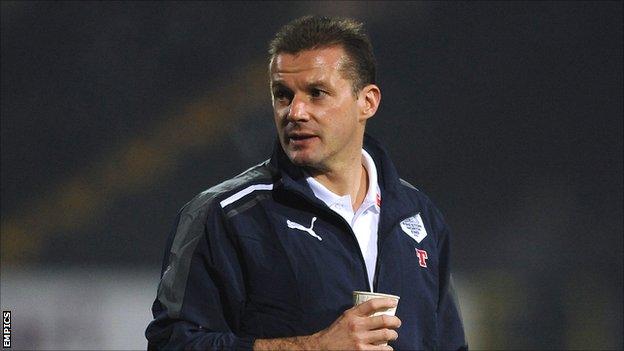 Preston manager Graham Westley does not intend to make any "big" loan signings and has told his fringe players to expect some first-team action.
Former Stevenage boss Westley during pre-season, ready for the club's second year in League One.
"Right now, we're on the limit on our spend," he told BBC Radio Lancashire.
"Unless we can move people out, which there are no great plans to do, we're not in a position to move people in."
He continued: "There may be a situation where somebody goes out to get games and that creates some money we can to spend in the loan market, so I won't rule it out, but there won't be any big moves from us.
"We are very tight on squad budget. It's no secret that the club went into the season with a massive overhang from the Championship days.
"When you have a lot of expensive contracts hanging over from the Championship days but your squad budget has to be geared to your income now, it's very difficult."
Westley revealed he has rejected an approach from an unnamed club to take midfielder Andy Procter on loan and added that all of his squad can expect to be utilised over the course of the season.
"I've spoken this week to the lads about where they're at as individuals," said Westley.
"Some will think they've cemented themselves into the starting 11, some will think they're rooted on the bench and some will think they're squad members and will be getting disillusioned.
"What's really important is that everybody within the squad realises they're here to play a part.
"It might not be their time right now, but if it's going to be their time in a minute, it's because of what they do right now, and the attitude they show when it's not going their way."