Di Canio column: Crazy media, player power and British weather
Last updated on .From the section Football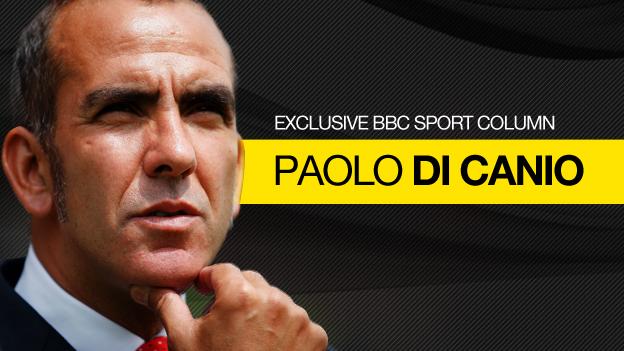 Swindon manager Paolo Di Canio, one of football's most controversial and colourful characters, gives his view on the world of football in his BBC Sport column.
Who knows best, me or the media?
I have discovered in England that sometimes the media are more crazy in some ways than the Italian media.
A couple of weeks ago we played Preston and I chose to substitute my goalkeeper Wes Foderingham after 21 minutes. It was clear from my point of view that I did nothing wrong other than use my power to change a player.
I don't see why I cannot substitute a goalkeeper early in the game just because he has a different colour shirt from the other players.
After the game I explained exactly why I subbed him. It was not just for a mistake he made, otherwise I would have taken him off in the fifth minute of the game after we had conceded.
Good managers study psychology and after the goal Wes conceded, for 17 minutes he kept moaning and arguing with his team-mates. It was not the fact he conceded, but that he kept arguing with his team-mates.
If we kept on going like that we would have conceded seven or eight goals and I don't want myself or the players to be part of a team that is going to make a negative moment in the club's history.
When I make decisions, it is not because I am crazy, changing someone for a simple mistake. As Wes went out he kicked the bottle, screaming bad words. I did not react and concentrated on the players involved in the game. At the end, I made a comment because someone asked me what I thought about the incident.
On that day Wes was not a good example to the other guys. The media can argue why I changed the goalkeeper, but not say "Paolo Di Canio was wrong". Why was I wrong? Since that moment Wes has become a better goalkeeper, so who was correct, Paolo Di Canio or the media?
It feels as though there is something against Paolo Di Canio the manager because a few weeks later in the same ground the Preston manager Graham Westley and the Crawley boss Richie Barker were pushing each other and screaming bad words at each other and I did not read one line in the newspapers about this.
I don't want to think there is something against me as a manager but I would like to see more honest comments.
Players should know their place
After Manchester City lost to Real Madrid in the Champions League, Roberto Mancini criticised Joe Hart because the goalkeeper said the players had themselves to blame for the defeat.
I saw some people say he should not have criticised him but in my opinion Mancini was right. I don't just say this because we Italians don't believe the players should speak. When players start talking about their team-mates or a performance, of course they can say in general "OK we did bad, we lost 2-0", but not "we should do this and we should do that".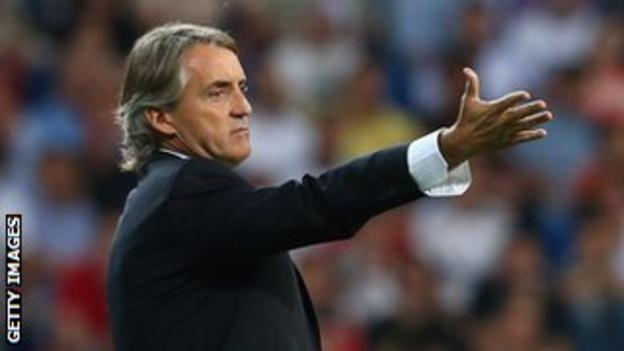 It is not about being a dictator. The players are players and the manager is the manager. The players have to spend more time in training sessions working to improve than spending time on Twitter writing comments and not focusing their attention to the game. That is a problem in England, not only Italy, everyone can say what they want.
Of course there is a democracy but sometimes the wrong message can be sent out. Democracy is not where a player can do what he wants, that is anarchy. A player can make comments, but not judge. A player can say "we did bad today" but not say "why we didn't do this or that". The manager has to say "why we didn't do this or do that". We analyse and we work. Only the manager can judge, the players can have an idea in general but not judge, so Mancini was right, but everyone attacks Mancini.
There is a different way in England, the players seem to be able to do what they want and you have to ask yourself: is this why the national team is not going close to winning something at the moment?
It is too easy now for players to go on Twitter and make comments about this and that but they should focus on training and believe in the manager to do his job.
Punish divers, but we have to be sure
In general I agree that there should be some sort of punishment for diving, but who is going to judge if you cheat or not? Obviously some situations are very clear but some are not. Even a small contact can make you lose balance and that can be difficult to judge.
There are obviously some situations like Manchester United's Danny Welbeck, when he dived against Wigan not so long ago. It is clear that was a dive. I don't want to say it should be a three-match ban but if the television proves it, then he should receive some fine.
From my point of view, Stoke manager Tony Pulis is right in general when he says players should be punished for diving, but we have to be careful and analyse exactly because even when we watch the video people can have different opinions. If you discover through the video, you have to be sure that a person has clearly dived early, then they should be punished.
British weather turns football into Formula 1
I love the British weather. I love it because it is so unpredictable. I enjoy clouds and that it can change at any moment, it is beautiful. Sometimes when it is raining and cold you can put on the fire and it is beautiful.
For the players it can be a bit like Formula 1, where they start with the sun and when they choose the tyres it starts to rain and they have the wrong ones on. The players have to think about the boots and the studs they use.
Paolo Di Canio was speaking with BBC Sport's Gary Rose.