Sheffield Wednesday boss Jones rues Bothroyd Twitter row
Last updated on .From the section Football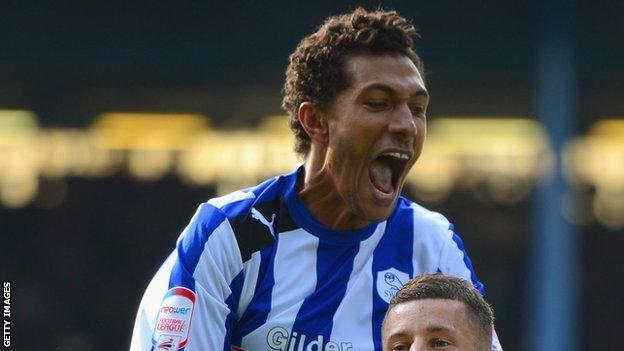 Sheffield Wednesday boss Dave Jones has labelled on-loan striker Jay Bothroyd "stupid" for getting in an argument with fans on Twitter.
"I think he was stupid in what he did because the one thing you don't do is go up against the fans," Jones told BBC Radio Sheffield.
"If I had my way then I'd ban the players from going on Twitter."
Jones continued: "There's only one thing he can do now, which is go out on the pitch and prove that it isn't true.
"He shouldn't have gone on there straight after the game because it's such a dangerous tool. I would just say you need to be sensible on it."
Bothroyd, on loan from QPR, is yet to find the back of the net in three appearances for the Owls and has since deleted the tweets and apologised for his behaviour.
He told the club website: "It was done in the heat of the moment. I was frustrated because someone on Twitter said I didn't care and I reacted to that, because nothing could be further from the truth.
"I care passionately about my game and I care about the club that I play for. Yes, I get frustrated, but that is because I am desperate to do well.
"I was responding to the people who were being abusive, I did actually say the select few, but I must make it clear in no shape or form was I referring to all the fans.
"I apologise for my bad language when I should set a better example in that respect, but I think in this difficult period we need everyone sticking together and that includes fans and everyone involved at the football club."
Wednesday, who have lost their last five matches in all competitions, travel to Wolves on Saturday.