Fifa to name interim body for football in Sierra Leone
By Mohamed Fajah Barrie
BBC Sport, Freetown
Last updated on .From the section Football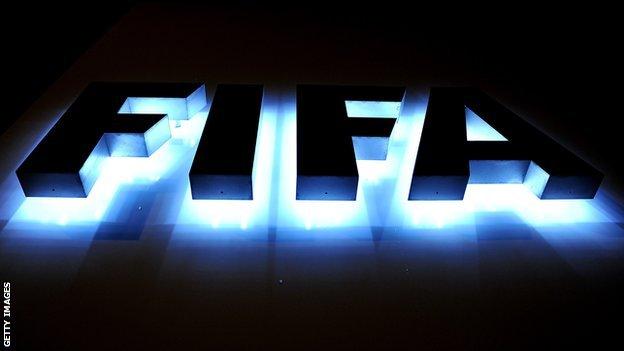 World's football governing body, Fifa, has said an interim body will run the affairs of the Sierra Leone Football Association (SLFA) until new elections are held next January.
Fifa says it will announce the composition of the body as soon as possible.
The new body has also been mandated to conduct the elections for a new SLFA executive.
This brings to an end the tenure of the SLFA executive committee whose sick President Nahim Khadi and Vice President Alie Kargbo resigned three weeks ago.
Fifa took the decision after its executive committee was briefed about the problems within the SLFA by Primo Corvaro following his recent trip to to Freetown.
There had been disagreements over who was eligible to stand in the SLFA's presidential elections.
The crisis deepened few weeks ago when the Sports Minister Paul Kamara accused the SLFA board of incompetence and dissolved it following the resignation of Khadi and Kargbo.
However the country's President Ernest Bai Koroma then ordered the board to be reinstated when it was revealed Fifa was monitoring the situation and could potentially place a worldwide ban on Sierra Leone football.
In a statement on the situation Fifa said: "We also noted the resignations of both the SLFA President and Vice President and acknowledge the claims made by some parties about the proper designations of the electoral bodies and identification of delegates.
"Under the circumstances, FIFA has decided to nominate a normalisation committee whose task will be to run the daily business of the SLFA and organise elections of a new executive by 15th January 2013.
However this latest decision is not welcome by most members of the SLFA who had opposed to the establishment of such a committee.