Gary Smith to continue dipping into US for Stevenage
Last updated on .From the section Football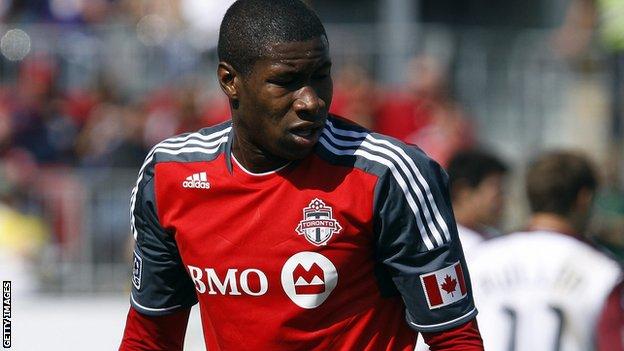 Stevenage manager Gary Smith plans to continue using his contacts in the United States as he looks to build a promotion-winning squad.
And he also has US international Robbie Rogers on loan at the club.
"I'd like to bring bodies in that can make a difference and maybe not too many other people know much about," he told BBC Three Counties Radio.
Smith, who formerly managed Major League Soccer side Colorado Rapids, believes there is a sizeable talent pool in the US that could benefit English clubs.
"The best example of that just recently is the lad at Stoke, Geoff Cameron," Smith said.
"He was a guy when I was out in the US that really struck me as an individual that had all of the qualities to play at the highest level here.
"He really is a powerful boy, he's 6ft 4in, he's got two decent feet and Stoke have snapped him up.
"Only time will tell whether he makes an impact in the Premier League but there are other guys like Brad Guzan, Tim Ream - these lads are all younger US players that I think have all the qualities and credentials."
Smith believes the MLS will always face a challenge to maintain its profile in a sports market dominated by baseball, American football, basketball and ice hockey.
However, he added: "The MLS have done a fantastic job, not only on a business front, but also on a PR front, in making sure that the players that do come through are given a lot more exposure.
"There are TV deals in the US now that are airing a lot more playing time, not only of MLS games but also the Premier League and I think the support to follow the MLS in general, has grown massively."