Fernando Torres display helped Chelsea beat Arsenal

By Robbie Savage
BBC Sport football pundit
Last updated on .From the section Football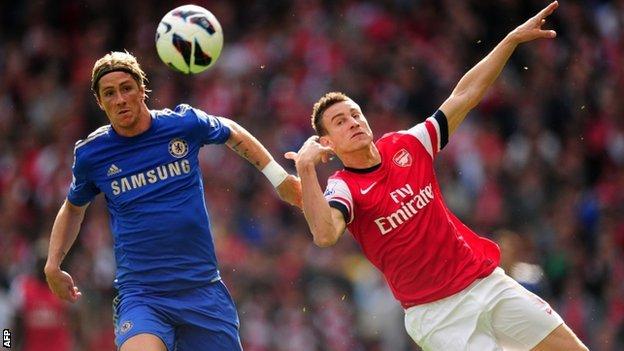 There was not much to choose between Chelsea and Arsenal in a hard-fought London derby on Saturday.
But there were two big reasons why the Blues edged a tight game 2-1. Firstly, the industry of Fernando Torres up front, and also the Gunners' inability to defend set-pieces.
Tireless Torres works until the end
With his power and pace, former Chelsea striker Didier Drogba clearly stands out as one of the best lone strikers in Premier League history - just ask Arsene Wenger about how he always bullied Arsenal when they played the Blues in the past.
This is a new Chelsea team now, in terms of personnel and playing style, but one thing about them has not changed - the role of solitary striker - and I thought Torres played it almost to perfection.
He does it in a different way to Drogba of course, because he is never going to win the physical battles. Instead, it was Torres's movement which made him such a handful.
But what the £50m Spaniard did have in common with his old team-mate was how hard he worked for his side.
Torres obviously scored one goal, and won the free-kick that led to the winner. But did you notice how he kept going until the very end?
His work-rate is what particularly impressed me, and nothing showed that better than the way he won a free-kick in injury time - chesting down a high ball from Petr Cech and bringing a foul from Arsenal as his side looked to see out the game.
It is not exactly glamorous but that selfless side of his game is exactly what was needed from someone playing in his role.
When I've played in teams with one man up top, it is always a difficult role but it generally depends on whether you are home or away, and who you are playing, as to exactly what you want from him.
At home, using Chelsea's set-up with Juan Mata, Eden Hazard and Oscar behind him, you would look to Torres to hold the ball up and bring those three into play as a link man when the Blues are enjoying a lot of possession and putting the opposition under pressure.
There were elements of that on Saturday but, because Chelsea were pushed back a lot by Arsenal at times, Torres had to do a lot more chasing of the ball in the channels, and also of lost causes full-stop.
In situations like that, it is important your striker is mobile enough to get after the ball and harry defenders, and that was exactly what Torres did so well.
Di Matteo plays a system that plays to Torres's strengths because he likes to play on the last defender's shoulder, and he likes to run on to little throughballs.
Hazard and Oscar are still settling in but the most encouraging sign that the new system is working for Chelsea, apart from the fact they are top of the league of course, is how well Mata and Torres are linking up.
They have played together for a year now, and it shows. They created goals for each other against Wolves in the Capital One Cup last week and Mata set up Torres for Chelsea's first goal on Saturday too.
Zonal marking is Arsenal's weak link
Arsenal have been impressive at times this season but they will not be title contenders if they keep conceding goals from set-pieces.
I just don't understand why they try to defend them using a zonal marking system. They were punished for it by Manchester City when Joleon Lescott scored from a corner, and twice again on Saturday.
I never played in a team that used zonal marking and, if I was a manager, I would always designate players for free-kicks and corners.
At Leicester under Martin O'Neill for example, we would decide before the game who was picking up who.
With zonal marking you each have an area to cover but that allows an attacker to get a run on you and gives them the advantage in winning the ball.
Laurent Koscielny was at fault for both goals and Arsenal boss Arsene Wenger spoke after the game about whether he should have picked Per Mertesacker instead but it is the system that is the biggest problem, not the players.
Rio exposed by Tottenham
Chelsea defender John Terry did not put a foot wrong against Arsenal in his first game since the Football Association found him guilty of racially abusing QPR defender Anton Ferdinand.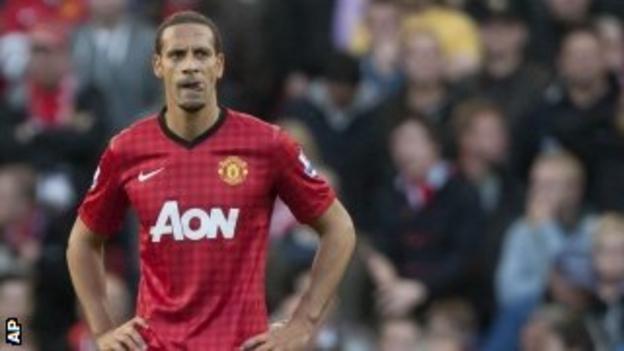 Terry's decision to retire from international football could mean a return to the England squad for Rio Ferdinand, who is a player I am a big fan of because I felt his experience could still help Roy Hodgson.
But it will be interesting to see if he gets a recall now after such a poor performance in Manchester United's 3-2 defeat by Tottenham, when Gareth Bale went past him for one goal and Jermain Defoe turned him inside out for another.
It was only one game, and Bale can do the same to a lot of players, but the Rio of two or three years ago would have got back and it just highlighted how he now needs someone with pace next to him - ideally Nemanja Vidic.
England have other centre-backs to call upon, but United don't at the moment and it will be a worry for them because other teams will now think they can get at him with pace too.