Leeds United: Neil Warnock receives Bahrain firm support
Last updated on .From the section Football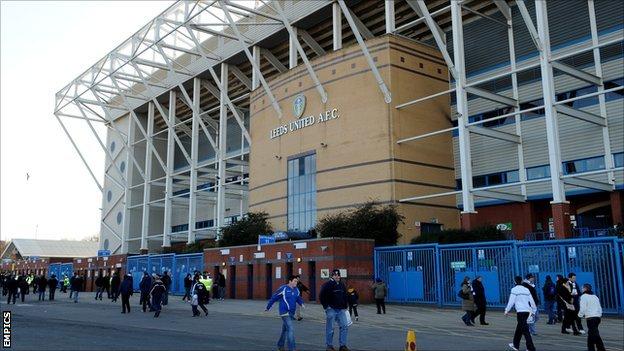 GFH Capital has given its backing to current Leeds United boss Neil Warnock, as the group looks to push through its takeover of the club.
In a statement, the Bahrain-based investment company revealed its priority is to return Leeds to the top flight for the first time since 2004.
"We also hope to take back ownership of Elland Road eventually," investment officer Salem Patel said.
"We will continue to work closely with Neil Warnock and the team."
Patel added: "We intend to show the fans - some of the most passionate in the game - just how we can 'March On Together' to give Leeds United the success it so richly deserves."
BBC Leeds understands GFH Capital, a subsidiary of Gulf Finance House, will become 'ultimate owners' of the club once the takeover deal is complete.
Current owner Ken Bates and GFH signed an exclusive agreement granting the group the opportunity to lead a takeover, while a letter to the Bahrain stock exchange was further evidence of its intent to acquire the club.
GFH chief executive Hisham Alrayes said: "Like many around the world, people from Bahrain and across the Gulf are passionate about the game of football and, notably, English clubs - their successes and hardships are a daily talking point.
"In so many instances this is what bridges the gap between borders and different cultures.
"We are excited by our intentions for Leeds United and remain fully focused on the specifics of this deal, hoping to conclude a positive outcome as soon as possible."
Four of their representatives from Bahrain were present at Elland Road last Saturday for Leeds's victory over Nottingham Forest, including deputy chief executive and United supporter David Haigh.
"As a club, Leeds United has it all - passionate loyal fans, a great heritage and masses of potential to return to the Premier League with the right, sustainable investment," Haigh added.
Bates, 80, who took control of Leeds in 2004, first revealed they were in exclusive discussions with unnamed investors on 26 June.
But he has since said he has been negotiating with a bank which has interests across the Gulf, Asia and Africa.