Aberdeen manager Craig Brown not for criticising Callum Murray
Last updated on .From the section Football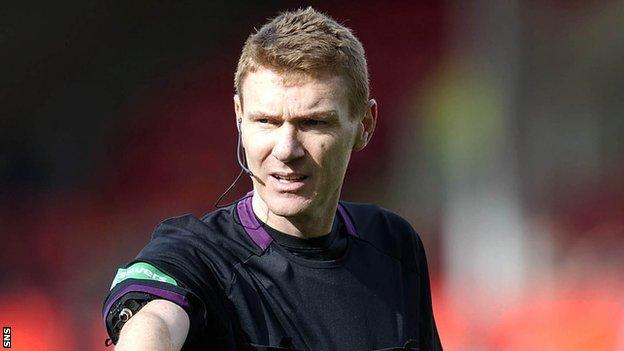 Aberdeen boss Craig Brown was reluctant to criticise referee Callum Murray following two controversial incidents during the 2-1 win over Hibernian.
Alan Maybury's dangerous-looking tackle on Aberdeen's Ryan Fraser was punished only with a yellow card.
And, when Brown's side led 1-0, James McPake's use of an arm to play the ball in the area went unpunished.
"I think Callum Murray's an outstanding referee and I would never criticise a referee," Brown told BBC Scotland.
"I'm told there was a very good claim in the first half for a second goal, at least for a penalty kick.
"The referee booked Maybury early and that was, I think, a sensible thing to do because it meant that Fraser then could play."
Victory was Aberdeen's first at Pittodrie this season following four home draws - three of which were goalless.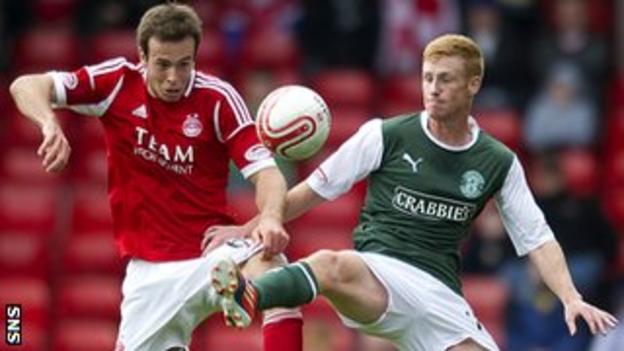 "I think the home win was overdue," added Brown.
"I'm not saying definitely that we deserved to win, we didn't deserve to lose.
"The three 0-0 results, we definitely deserved to win each one of them. So, I think things are evening out. Let's hope so.
"Today, maybe a draw would've been fairer. Throughout the match, I felt we weren't in any real difficulty. I felt we had control of the match.
"Had we not won the game, I'd have been really disappointed yet again, as I was when we had the three 0-0 results.
"We were apologising to the fans repeatedly for not having home wins, but I think the fans will be delighted that we managed to squeeze through and hopefully they'll see that there is the prospect of more home victories this season.
"I've got to credit the defence for a very stout performance. When required, they were up for the task and I thought they defended exceptionally well."
Niall McGinn's early opener for the hosts was cancelled out by Eoin Doyle before Gavin Rae's winner on 71 minutes.
And Pat Fenlon felt Aberdeen's second-half performance proved decisive.
"I thought, second half, they were a bit better than us," admitted the Hibs boss. "I didn't think there was a lot in the game.
"We've got to believe more.
"We're conceding too many goals at the moment, something that we need to work on, tighten up on.
"We've got to show a little bit more desire to stop things happening in our own penalty area."