Motherwell A-A Dundee Utd
Last updated on .From the section Football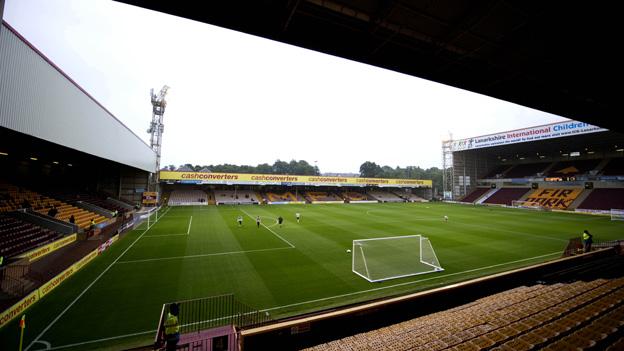 Motherwell's match with Dundee United was abandoned after kick-off was delayed due to a power failure.
Electricity went down in parts of Motherwell just before the game was due to start at 15:00.
And the Fir Park club were powerless to do anything except call off the match, said chief executive Leeann Dempster.
"The problem is not in the stadium. There has been a major power failure in North Lanarkshire and we've been caught up in that," she said.
"We are frustrated. We have generators which give us emergency power, to enable us to evacuate the stadium, but it's not enough to run a full match, I'm afraid."
Dempster was keen to emphasise the problem was more widespread than the stadium,
"People will say we have form because of the Hibs game, but it's nothing to do with our preparation.
"Supporters will get a ticket allowing them in to the next game," she added.
Dundee United manager Peter Houston was also clear that no blame could be attached to the home club for the call-off.
"It's not Motherwell's fault, let's first of all clear that up.
"There's nothing you can do about it.
"You look at it today, the pitch is in magnificent condition, two teams looking toget back onto form after disappointing results and we'll need to hold these frustrations for another fortnight.
The United players gave their fans a standing ovation before the stadium was evacuated, and Houston was quick to praise the travelling support.
"That's real supporters for me, fans who turn up, especially after a couple of bad defeats.
"That's the people who turn up an hour and a halfs journey from Dundee, so you feel for them having to travel all the way back up the road."
However, the Tannadice boss was frustrated at a pile-up of fixtures for his team and the players now on an international break.
"That takes us to three games behind the rest of the league after today's fixtures," he said.
"That happened to us a few years ago and it actually benefited us playing Saturday, Wednesday, Saturday, Wednesday as it got us a run of consistency.
"Now, if the games keep going off, it'll maybe hopefully turn out the same way.
"However, the players are frustrated because today they wanted to show they're not quite as bad a team as maybe some people are making out."