Nigeria needs to use Lagos seminar as seminal moment
By Oluwashina Okeleji
BBC Sport, Lagos
Last updated on .From the section Football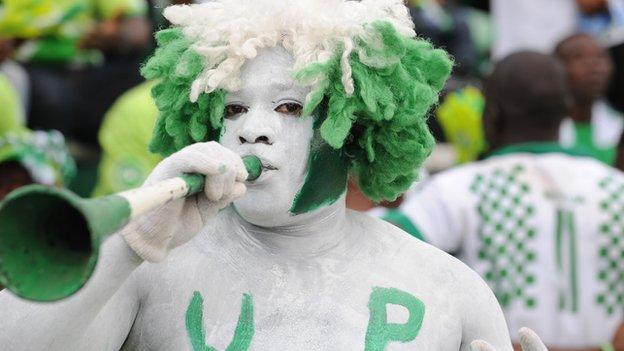 Hopes are high that the inaugural Soccerex Seminar in Lagos will trigger a revival in fortunes for the football-loving nation of Nigeria.
Leading decision-makers in African football mingled with their counterparts from around the world, trading more than just business cards.
And co-hosts, the Lagos State Football Association (LSFA), feel the seminar can only promote football development in the region, insisting the eye-opening event was a huge success.
"It's a long-term plan but with this first edition, we have achieved our aim," LSFA chairman Seyi Akinwunmi told BBC Sport.
"Already we've gotten two major potential sponsors of various facets of our vision - which is a brilliant start."
With representatives from football teams and sports-related companies from around the world in attendance, such as management agencies, consultants, sponsors and sportswear manufacturers, Soccerex is seen as the place to network and agree deals.
A visibly delighted Akinwunmi is also excited at the long-term prospects and commercial opportunities that comes with this gathering.
There is also a strong hope that officials have been enlightened on ways of tackling corruption, mismanagement and eradicating violence which has recently blighted the Nigerian game.
Akinwunmi said: "Essentially, the businesses that will come into Lagos will employ Nigerians. Setting up this conference has employed and, therefore, already benefited Nigerians.
"The vibrancy of the sessions, the knowledge shared will hopefully help improve our football administrators and principle actors."
Soccerex Lagos is destined to be a regular occasion in Nigeria, at least until 2015 and Akinwunmi is already looking ahead: "We've connected and brought people together at the first attempt.
"Legends of the game and industry experts engaged in frank conversations here which was absolutely revealing.
"We are confident that over the next four years, Soccerex will place Lagos firmly on the map for football tourism and the global football industry. We are on the right path."
Duncan Revie, Soccerex's founder revealed that Nigeria, with the largest population base in Africa, is a rapidly growing market which has a huge potential for the football industry.
Revie says: "There's a huge football following in the region but the industry is underdeveloped and needs to be brought up to modern standards, to cope with the country's plans for football developments - and that is where we hope to be able help.
"It's been an excellent platform for Lagos, Nigeria and west Africa. A great start with promising future ahead."
For a nation so synonymous with football, former stars like Sunday Oliseh, Taribo West, Mutiu Adepoju, Samson Siasia and current Super Eagles coach Stephen Keshi were part of a star-studded cast of football legends who illuminated the event.
Last year was a dark one for football followers in Nigeria after club and country failures. Nigeria fell short in qualification for the 2012 Africa Cup of Nations in Gabon and Equatorial Guinea.
It marked the first time the Super Eagles had failed to qualify for a Nations Cup finals since the 1986 edition in Egypt.
The Super Falcons, the most successful womens side in Africa, failed to qualify for the 2011 All Africa Games as well as the London Olympics.
They may have won the world cup trophy three times but Nigeria's under-17 side could not even qualify for the African championship.
The Flying Eagles then lost in the quarter-final of the Under-20 World Cup in Colombia, while at club level both Enyimba and Sunshine Stars made semi-final exits in the Caf Champions League and Confederation Cup respectively.
With the country stuttering on the pitch and plagued by several demons off it, former Nigeria captain Sunday Oliseh suggests a return to organised, structured development is the key to success.
"We have to think higher, set our standards much higher because football has evolved," said Oliseh.
"The difference between Europe and Africa is that football development in Africa is based on individual talent.
"We must find a way to plan structured programmes to develop young players from an early age."
Outsiders see Nigerians as mere passionate speakers, and too lame to act.
But some argue that lessons have been learned from previous mistakes, that the need to follow through on this Soccerex forum has been noted.
"Maybe we need to face the truth by stop talking and sincerely act on the things discussed here to benefit us both on and off the pitch," says Adokie Amiesimaka, a member of Nigeria's 1980 Africans Cup of Nations winning squad.
"We have too many experts who love to talk. Hopefully Soccerex has converted them into principle actors who will implement all they've learned here."