Champions League: Celtic boss Neil Lennon plots away win
Last updated on .From the section Football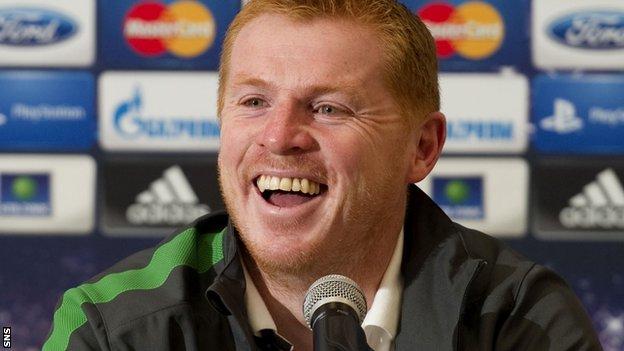 Neil Lennon says his Celtic side are in confident mood ahead of their Champions League visit to Spartak Moscow.
Celtic drew 0-0 against Benfica in their opening game in Group G, and Lennon is aiming for a win in Russia.
"It's our first foray away from home in the group stage," said the manager. "This is very exciting for the players as it is for the backroom staff.
"We want to give a good account for ourselves and make the game as competitive as we can."
Lennon hopes Celtic can capitalise on the 2-0 league victory against 10-man Motherwell that saw his side move to the top of the Scottish Premier League.
"Our performance at the weekend was probably our best of the season," he said.
"So, if we can build on that going into this game, who knows where that can take us?
"We're not the favourites on and feel almost no pressure. The away Champions' League match is probably the most difficult thing in club football.
"Russian football is currently on the rise and it's stronger than Scottish football.
"There are several strong clubs in Moscow including Spartak, there are Zenit and Anzhi. Besides, our financial possibilities are also incomparable. But my players are in good form amd the entire team is healthy.
"Our successful start in the campaign boosts our self-confidence. The pressure ahead of the away qualifying match with Helsingborg was much tougher."
Lennon went on to mark out former Celtic winger Aiden McGeady as one the danger players to watch in Moscow.
"McGeady has become an even more classy player in Spartak," added the Celtic boss.
"He's one of those players who always attracts attention when he's with the ball or without it.
"But we'll have no other chioce but to hold him and the entire Spartak attacking line. We're all set to achieve positive result against Spartak."
The Russians opened the group with a 3-2 defeat to Barcelona, having led 2-1 at the Nou Camp.
"This match is very important for us, said head coach Unai Emery. "We need to take all three points at home.
"Celtic are a young team with a few experienced players. They play very hard and aggressively, so we need to get used to the intensity and see where we can outperform them.
"We've got important matches coming up both in the Champions League and against CSKA Moscow in domestic league. So our work has been designed to ensure everyone is prepared for these matches the best possible way."