Dexter Blackstock red card 'stuns' Forest boss Sean O'Driscoll
Last updated on .From the section Football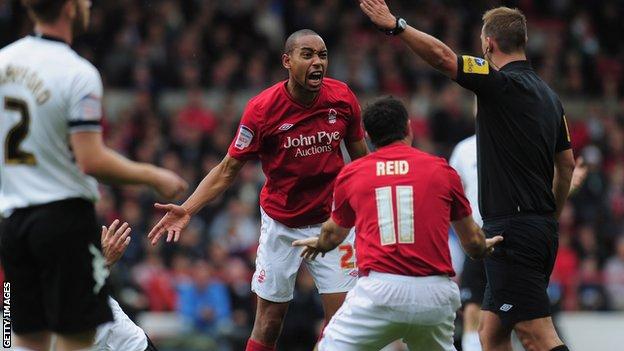 Nottingham Forest boss Sean O'Driscoll says he was "stunned" by striker Dexter Blackstock's red card in the 1-0 defeat by Championship rivals Derby.
But O'Driscoll conceded he could see the reasons behind referee Robert Madley's decision after Blackstock caught Richard Keogh with his elbow.
"You can see why he gave it," he said. "But in the context of the game I just think it's a harsh one, very harsh."
Derby's Craig Bryson scored the winner shortly after Blackstock's dismissal.
Blackstock pleaded his innocence to referee Madley by insisting any contact with Derby defender Keogh was unintentional.
O'Driscoll said Forest will consider appealing against the red card, which came within 30 seconds of the start of the second half.
"In the context of the game I thought [the referee] took everybody by surprise," he added." I don't think there was a great deal of shouts from the Derby players or even our players. We were in stunned silence.
"We'll have to look at it - see if we can get it rescinded."
Afterwards, Blackstock apologised on social networking site Twitter for the red card, but continued to maintain any contact was accidental.
The ex-Derby player became the fourth player to be dismissed in the last four matches between the two East Midlands neighbours.
"Sorry for letting the side down but I only had my eyes on the ball and never ever tried to elbow him, gutted," Blackstock tweeted. "And respect for Richard Keogh saying in his interview that it wasn't a red card."
Derby first-team coach John Metgod agreed with O'Driscoll's view that it was a difficult decision for West Yorkshire official Madley.
"I'm in the lucky position to go home and in about two-to-three hours' time, I'll have another look at it and make up my mind, which for the referee, obviously he can't," the Dutchman said.
"The only thing I would say is I can't see a referee taking a decision like that if he's not absolutely convinced. If there was any doubt whatsoever, I can't see him sending him off."