Steven Pienaar: South Africa captain retires
Last updated on .From the section Football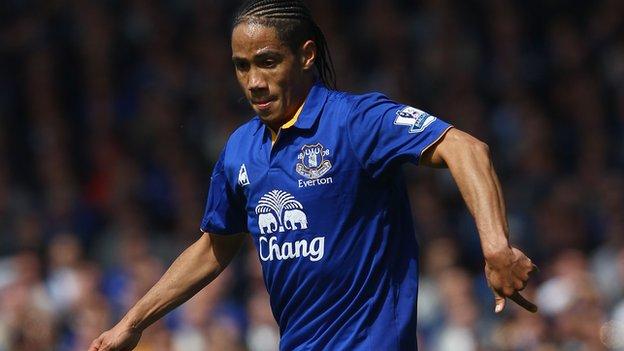 South Africa captain Steven Pienaar has retired from international football.
The 30-year-old's decision was announced by coach Gordon Igesund on Tuesday as he unveiled his Bafana Bafana squad to face Poland and Kenya in friendlies next week.
Speculation had been mounting that Pienaar would retire to concentrate on playing for Everton.
Igesund told reporters that he received a phone call from Pienaar on Monday night informing him of his decision.
"I'm proud to have played for and captained my country. For that I thank you," the Everton midfielder said via a statement.
He added: "After having given more than 10 years' service to the national team I am now at a stage where physically I am struggling to balance the demands of playing in England with the number of games required by South Africa.
"There is a lot of very good young talent coming through and perhaps it is time for them to be given an opportunity."
Igesund has named defender Bongani Khumalo as Bafana Bafana's new captain and admitted it is unlikely Pienaar will play for his country again.
South Africa's coach said: "I am disappointed that Steven has retired from the national team.
"But the way he has retired is the right way. I think it was a tough decision for him."
Igesund paid tribute to Pienaar, adding: "His presence and leadership is invaluable and could have helped us in our mission for 2013 AFCON and the World Cup qualification, but we must respect his decision."
Pienaar made his international debut in 2002, and has featured for the national side at two World Cups.
The 30-year-old withdrew from last month's matches against Brazil and Mozambique with an injury, only to then appear in Everton's starting line-up just days later.
Pienaar is just the latest in a long line of Bafana players to become embroiled in a 'club v country' debate over the years.
Benni McCarthy retired from international football after the 2002 World Cup in order to concentrate on his career in Europe before eventually returning to the fold.
Mark Fish 'retired' more than once, while Shaun Bartlett quit international football in order to win a new contract with his club side Charlton.
However, Everton manager David Moyes stressed: "We had no input into Steven Pienaar's decision to retire from international football."
He told evertonfc.com: "I have never discouraged any player from playing for his national team, in fact I encourage it."