Nathan Blake urges Welsh Premier League revamp
Last updated on .From the section Football2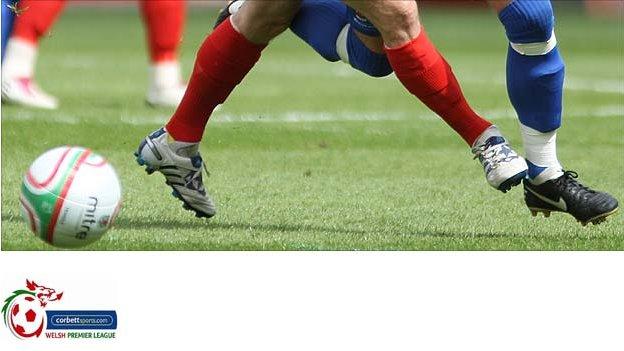 Former Wales striker Nathan Blake has called for a Welsh Premier League revamp in the wake of financial problems at Llanelli and Neath.
Llanelli's finances remain precarious and BBC Wales understands players have received a month's salary of the money owed to them to keep competing.
"The whole Welsh Premier League really needs a bit of a revamp," said Blake.
"I think they really need to sit down and have a look at it because the fanbase just doesn't seem to be there.
"And it's almost impossible to survive in football without a decent fanbase."
Blake says he would like to see clubs in the league become feeder teams for bigger teams, including those in the English system such as Swansea City, Cardiff City, Newport County and Wrexham.
The Welsh Premier League was born in 1992-93 over fears that Wales' footballing independence was under threat.
Similar fears prompted the Football Association of Wales to argue against the formation of TeamGB's football team for the 2012 Olympics.
However, the Games team was captained by Welshmen Ryan Giggs and Craig Bellamy and also included Joe Allen, who has since moved from Swansea City to Liverpool.
Blake, who played for Cardiff City, Wolverhampton Wanderers, Blackburn Rovers and Leicester City, told Monday night's Radio Wales Sport: "I would almost like to see the Welsh Premier League clubs become almost like feeder clubs for... clubs within their region.
"I think they [the WPL and FAW] want to keep this distinction between Welsh Premier League and English Football League, obviously.
"I just think it would be nice if you could see teams like Llanelli feeding clubs like Swansea and what have you."
Twelve teams play in the WPL, spread throughout the country.
However, none of them are based in the nation's cities of Cardiff, Swansea and Newport.
Blake's fellow pundit and another ex-Welsh international, Ian Walsh, says travelling costs are among the issues for WPL clubs.
Walsh says some clubs are well-run businesses, adding: "You've got to have a sugar daddy in the background at that level because I really am surprised at how much the players get paid at that level.
"And there are clubs that run their business really well.
"But a lot of the time, if there isn't money coming in, you can't afford to pay it out and it is about business and keeping your head above water."