Frank Lampard: Roberto Di Matteo says midfielder is key for Chelsea
Last updated on .From the section Football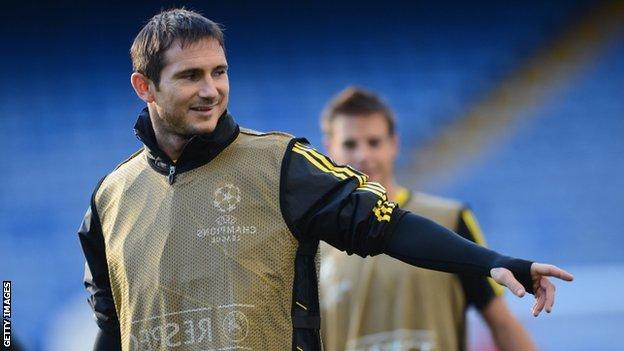 Chelsea manager Roberto Di Matteo wants Frank Lampard to spend the rest of his career at the club, despite using the England midfielder more sparingly.
Lampard, 34, has been a key part of Chelsea's success since joining from West Ham in 2001.
But he has only started three Premier League games this season.
Di Matteo said: "Frank is still a key player. He's been so successful with this club and I hope he stays for the rest of his career with us."
Di Matteo understands Lampard, whose contract expires at the end of the season, may be frustrated at not playing as regularly but the Italian thinks that is the way to get the best out of the veteran.
He added: "We had conversations at the back end of last season, given the amount of games that we were playing. I tried to get the best out of him by not playing him in all the games, just to make sure he could be ready for the matches he did play.
"This year, it looks the same. Frank is an intelligent man and I have a very good relationship with him.
"We talk and as much as nobody likes to be on the bench and being disappointed at not playing, I hope he understands."