Man City v Borussia Dortmund: Why Lewandowski is key
By Raphael Honigstein
German football expert
Last updated on .From the section Football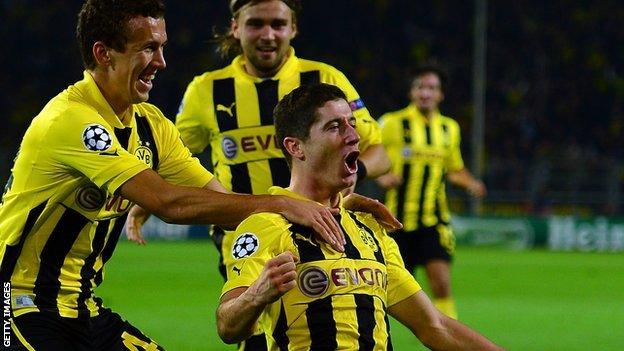 Robert Lewandowski has come a long way since he last played a game in England just over a year ago.
He will be on show again against Manchester City on Wednesday in the Champions League as the Bundesliga giants visit Etihad Stadium.
Against Arsenal, the German champions showed their inexperience in Europe and Lewandowski, in particular, looked like coming up short at this level.
He scored a single, inconsequential goal - in the 3-1 away defeat to Olympiakos - during Dortmund's doomed campaign, where they finished bottom of their group behind Arsenal, Marseille and Olympiakos.
Back home, most Borussia supporters were still hoping for the speedy recovery of Lewandowski's injured fellow striker, Paraguayan Lucas Barrios.
But the 24-year-old went on to have a fantastic second half of the season. Lewandowski was the key difference between the sides as Bayern Munich lost the decisive Bundesliga game 1-0 at the Westfalenstadion.
He scored a hat-trick against the same opposition in the DFB Cup final, then netted the opening goal at Euro 2012 for Poland in the 1-1 draw with Greece.
When national manager Franciszek Smuda confidently predicted that Lewandowski was "going to Manchester United" for the new season, sections of the UK media believed a deal had been struck.
But Dortmund weren't in the mood for letting another key player leave following Shinji Kagawa's move to Old Trafford. "We won't give up Robert for any money in the world," insisted CEO Hans-Joachim Watzke. "We don't want to open a bank. We have a strong team."
Lewandowski did stay but unless he agrees to a contract extension beyond his current June 2014 deal, the rumours are unlikely to go away.
Manager Jurgen Klopp has publicly blamed the player's agents for the constant stream of speculation, saying: "I don't have a problem with him but his agents wouldn't be in my squad."
But there is a very real debate about his exact worth going on.
Dortmund, German newspaper Bild have reported, are offering to double his wages to the equivalent of £50,000-a-week but he is holding out for around £70,000.
Even though the club were highly profitable last season, making a record £27.1m profit on £171.7m turnover - Lewandowski's stance poses problems.
On the one hand, as a mobile, technically good target-man, he's the perfect focal point for their attacking game and almost impossible to replace. On the other, upping his wages will put the club under pressure to follow suit with other key players - like defenders Mats Hummels and Neven Subotic, for example.
That means the chances are that Lewandowski will leave in the summer.
Bayern Munich, who had an offer rejected at the beginning of the summer, might well come in for him again but Dortmund would prefer to sell him abroad.
That's why everyone concerned will hope for a strong showing from the centre-forward in this Champions League campaign, for a number of reasons.
"Lewa", as they call him in the dressing room, already opened his Champions League account with a fine, late goal against Ajax in the 1-0 win at the Signal Iduna Park.
The nervy win over the Dutch champions was seen as something of a breakthrough for both him and the team after the disappointment of the 2011-12 Champions League campaign.
But the trial has just begun in this most unforgiving of groups.
Have Dortmund really learned from their past mistakes? City, despite their defensive worries, are undoubtedly stronger than Arsenal were a year ago, so it will be instructive to see how they can cope at the Etihad.
"Aguero, Balotelli, Tevez or Dzeko are players I want to measure myself against," said centre-back Subotic. "In Manchester, I can see how far I've come."
The confidence has returned following a 5-0 win over Borussia Monchengladbach on Saturday night but Klopp has warned about City's "team peppered with world-class stars" and said that they were "far away from bragging" about their chances.
A key question will be whether Borussia can find the courage and the precision to play their high pressing game.
Done well, it's a devastating tactic but the risk you take increases incrementally with the opposition's ability to keep the ball. The flip-side to hunting the ball in packs is that there's often no-one left to protect the back four when the other team manage to get out of midfield. Left exposed, Hummels and Subotic made plenty of mistakes in the last campaign.
Conversely, Klopp can take encouragement from attacking midfielder Marco Reus's excellent form and signs of his nascent understanding with the equally talented Mario Gotze. Those two will put City's back four - or back three - to the test.
Wednesday will certainly answer a lot of questions, for both sides.