Cup sponsors' collapse to hit Irish Football Association
Last updated on .From the section Football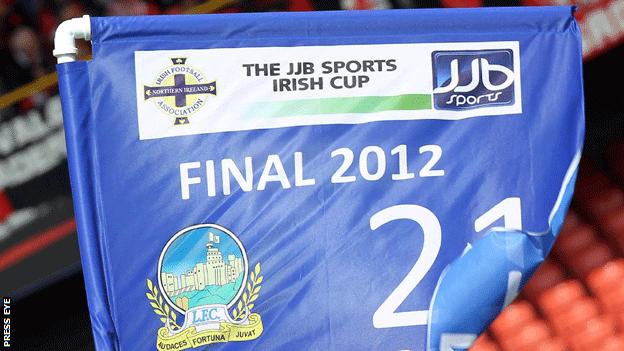 The Irish Football Association expects to be hit financially by the demise of the Irish Cup sponsors, JJB Sports.
Around 2,200 staff were made redundant on Monday after administrators closed 133 JJB stores and agreed to sell 20 remaining outlets.
The IFA has had a commercial deal with JJB for more than a decade and the firm has backed league and cup competitions.
The association is bracing itself to take a financial 'hit' should the current Irish Cup deal come to an end.
IFA officials are waiting to speak to the sports retailers' administrators, KPMG.
It is understood the JJB deal is not the biggest sponsorship deal in local football and losing it would not put the IFA in financial difficulties.
The IFA is expected to begin the search for a new sponsor of the Irish Cup, Northern Ireland football's showpiece knock-out competition.
Previous sponsors of the Irish Cup include the Nationwide Building Society and brewing firm Bass.
In 2008, JJB took over from Carnegie as sponsors of the Irish Premiership but that deal last for just one season.
The firm, founded by Wigan chairman Dave Whelan, has also been the official retail partner and kit supplier to the IFA.