Manchester United striker Robin van Persie targets improvement
Last updated on .From the section Football271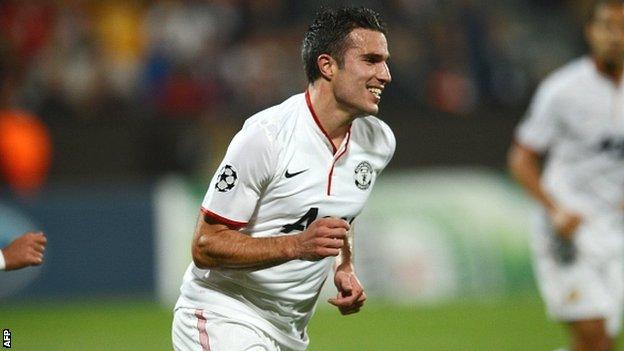 Robin van Persie said he is working hard on becoming a provider for his Manchester United team-mates after scoring two goals in the Champions League win over CFR Cluj.
The Dutchman has now scored seven goals in as many appearances since his £24m move from Arsenal to help United to a 2-1 victory in Romania.
"I am on a good run but I would like to do better," Van Persie said.
"I would like to make more assists than I have. It is not only about goals."
He added: "I think I am on the way [to settling in well]. I want to make more assists, I have made only one. I would like to improve that."
The victory in Transylvania was the first time Sir Alex Ferguson had been able to start both Rooney and Van Persie together. The pair combined for both United goals, with the former Arsenal striker latching onto two passes from his team-mate.
If the first goal had a touch of good fortune about it, the ball deflecting in off Van Persie's shoulder, the second had nothing of the sort as the Dutchman volleyed Rooney's pass into the net with a flick of his left boot.
"Everything starts with a good pass, not many players can make a pass like that. It was good build-up play for that goal and when it came to Wayne I knew he could see that pass and give it exactly the way I wanted it," Van Persie added.
"I think it is the first time we have both started together, we were both really pleased with that. But we all did it together tonight. Chicarito [Javier Hernandez] played really well tonight and with Danny [Welbeck] we are all doing it together."
Ferguson admitted he had been delighted by his attacking players. "The second goal was fantastic," he said. "It was a great ball from Wayne. I thought he had hit it too far in front of him. But the speed to get to the ball and his deftness of touch were fantastic.
"The best quality both of them have is that they can turn a game," Ferguson added. "That is an important feature. It doesn't really matter if they have a personal combination, it is their ability to finish moves off, whether it is through [Tom] Cleverley, Nani or [Antonio] Valencia.
"We have a pair of really top players who can finish and change a game. There is always going to be an issue because everyone expects it to be a miracle combination. But the strength of our team now is definitely in the forward positions.
"We have good alternatives, with Wayne, Shinji [Kagawa], Van Persie, Welbeck and Hernandez."
United lead Champions League Group H and next face two games against Portuguese side Braga, who won 2-0 in Istanbul against Galatasaray.
Ferguson also revealed that defender Jonny Evans, who was replaced by Scott Wootton in the latter stages, is likely to be available for Sunday's trip to Newcastle.
"It is a dead leg," Ferguson added. "He got injured on Saturday and had a recurrence of that. He has five days to recover for Sunday. Hopefully he will be OK."