El Clasico: Barcelona's Vilanova steps out of Guardiola's shadow
By Andy West
Spanish football journalist in Barcelona
Last updated on .From the section Football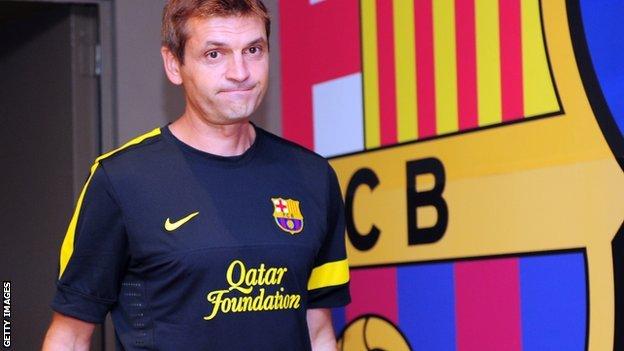 When Pep Guardiola resigned as Barcelona manager at the end of last season, he left behind a team that had won 14 trophies during his four years in charge.
That tally included two Champions Leagues, two Club World Cups and three Spanish league crowns.
Those successes were achieved with an exhilarating, free-flowing style of play that led many observers to pronounce them as the greatest team ever to have played the game.
So it was a tough act to follow for the new man in charge - Guardiola's former assistant Tito Vilanova.
Until his elevation to the managerial role, 44-year-old Vilanova was a relatively unknown figure outside the confines of the Nou Camp.
After a modest playing career with Celta Vigo and Mallorca, among others, his coaching career got under way in 2002 within Barca's famed academy.
He gradually progressed through the age groups - working with Lionel Messi, Cesc Fabregas and Gerard Pique as teenagers - before teaming up with Guardiola, initially in 2007 to manage the B team and then to work with the senior squad the following year.
The rest is footballing history, and local Radio Marca reporter Carles Escolan says Vilanova's successes alongside Guardiola ensured he was a popular choice to take over.
"Barca fans felt Tito was a logical appointment because he had achieved so much with Guardiola and he knew everything about the way the team plays and trains. It was perfect continuity," said Escolan.
"The fans also like him because he's a Catalan and spent many years with the academy, working hard to reach the top. They see him as one of their own."
However, there was no time for Vilanova to enjoy a honeymoon period. With arch rivals Real Madrid enjoying a record-breaking campaign to end Barca's run of three consecutive La Liga titles last season, he was under pressure to make an immediate impact.
To say that he has enjoyed a successful beginning would be an understatement. Barca have won their first six league games to equal their all-time record for consecutive victories at the start of a season, and also have maximum points from two Champions League group games.
The only blip was a two-legged Super Cup loss against Real Madrid, but even then they emerged with credit as they suffered defeat by the narrowest of margins - away goals - and were the better team for much of the 180 minutes.
So now, less than three months into his new job, Vilanova stands on the brink of achieving a small piece of history: if they win their next game, they will become the first Barcelona team to start a season by winning seven consecutive league games.
Poetically, their opponents for that next encounter are none other than Real Madrid, who will arrive at the Nou Camp on Sunday desperate to reduce the eight-point gap between the sides.
It is by no means a foregone conclusion: Madrid are returning to form after a poor start while Barca's 100% record masks the fact that they have needed a fair amount of fortune and a flurry of late winners to secure those six straight wins.
Their football has often lacked its usual fluency and they have looked vulnerable in defence - not helped by injuries to centre-backs Carles Puyol and Gerard Pique, whose places are being filled by a pair of ex-Premier League converted midfielders, Alex Song and Javier Mascherano.
Viewers of this season's first league El Clasico on Sunday will recognise a familiar style in Barcelona's short passing, possession-based play, which has not been altered by Vilanova's appointment.
Ever since pre-season training began in July, in fact, Barca players have consistently emphasised how little they have been affected by the departure of Guardiola. Their much-repeated message is that nothing has changed: it's the same team, the same system, the same training, the same philosophy.
However, that is not to suggest that Vilanova is simply Guardiola mark two.
Escolan explained: "Their football philosophy is the same, but Guardiola and Vilanova have very different personalities.
"Pep was charismatic, intense and passionate, both in public and behind the scenes.
"Tito is the complete opposite. He is much more serious, he says as little as possible in press conferences, and he's always calm and composed.
"Pep was a motivator; Tito is a thinker."
In that respect, Vilanova is also markedly different from his biggest managerial rival and the man with whom he will locks horns on Sunday: Jose Mourinho.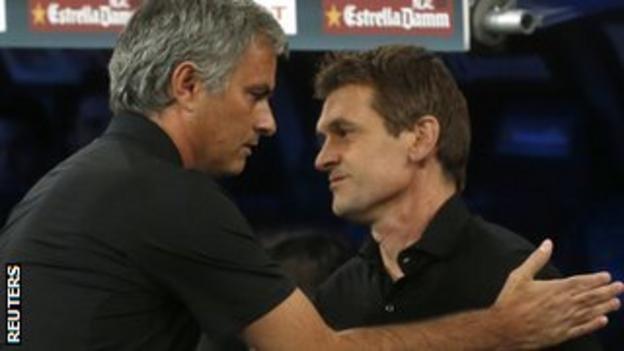 While the Real Madrid boss is a compelling communicator, capable of creating headlines with every utterance, Vilanova is polite, diplomatic and always steers well clear of controversy.
He is certainly not lacking passion, though - that much was evident from his fist-pumping celebration when David Villa netted a stoppage-time winner at Sevilla last weekend.
When Vilanova was appointed, the main question was whether he would possess a strong enough personality to be able to step up from the relative anonymity of the number two role and withstand the inevitable barrage of psychological pressure exerted by Mourinho.
Although Barca's winning run means we have not yet seen how Vilanova will respond to adversity, his confident demeanour and calm authority suggest he will have no problem in rising to the challenge when that time comes.
But with Mourinho's Madrid due in town on Sunday, Barca fans are hoping we will have to wait a little longer to find out.