Huddersfield boss Simon Grayson angered by Leicester defeat
Last updated on .From the section Football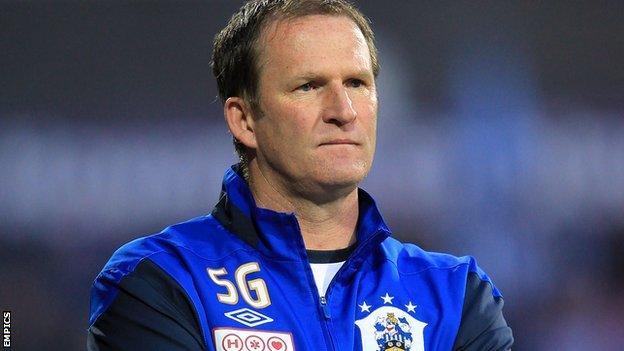 Huddersfield boss Simon Grayson called his side's defeat by Leicester City "men versus boys".
"We didn't get anywhere near anyone, it was men versus boys at times," he told BBC Radio Leeds.
"There were fireworks in the dressing room at half-time to wake the players up because this should have been a game where we looked to bounce back."
He added: "We didn't do the ugly side of the game and I told them I could have taken six or seven of them off.
"I believe in this group of players, I signed most of them, so it's not about having a crisis meeting but we just need to do a little bit of soul searching."
Huddersfield had gone up to second in the table after beating promotion-chasing Blackpool at Bloomfield Road last Monday.
However, successive defeats by Watford and Leicester has seen them drop down to eighth.
Grayson thanked the club's fans for not turning on the team despite the poor performance on Tuesday.
"It's a credit to the supporters because at other clubs you could have been booed off at half-time and at full-time," he continued.
"It's a vibrant place here and we have to give the fans something to get off their seats about and get behind us.
"It's a two-way thing, we need them to back us and we need to give them a reason to get behind us."