Price of Football: Burton Albion cheapest League Two team
By Karen Fazackerley
BBC Sport
Last updated on .From the section Football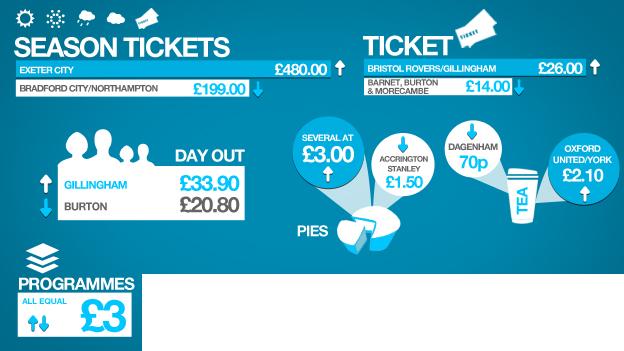 Burton Albion is the cheapest place to watch League Two football, according to BBC Sport's Price of Football study.
The least expensive adult ticket at the Staffordshire club is £14, although that is £4 more expensive than the cheapest ticket in the Championship.
A day out at the Pirelli Stadium - a ticket, a programme, a cup of tea and a pie - would cost an adult £20.80.
It was thought Plymouth were the cheapest but the £12 ticket supplied to the BBC was actually for disabled fans.
Fleur Robinson, Burton's commercial director, told BBC Sport: "We try to take a realistic approach when setting our prices and up to now this has seen us raise our ticket price only once in the last four seasons, and that was only by £1. Children's ticket prices have not increased at all since our promotion to the Football League in 2009.
"We aim to keep our prices as affordable as possible across the board for all of our supporters and hopefully we can encourage more people in our local community to visit the stadium."
Only two other professional clubs - League One sides Sheffield United and Huddersfield Town - offer cheaper days out.
Southend, Bradford and Accrington have one ticket price regardless of seat or position - at £21, £20 and £17 respectively.
At Northampton and Port Vale spectators can upgrade to the most expensive seats for an extra £1.
Gillingham is the most expensive club to watch League Two football.
The cheapest ticket at the Priestfield Stadium is £21. Adding in a pie, programme and tea, the cost of a day out rises to £28.90.
If fans buy the most expensive ticket available at the Priestfield Stadium, the cost of a day out rises to £33.90.
Port Vale is the only club in League Two to lower their cheapest adult matchday ticket prices. In 2010-2011, it would cost £20.50. Now it is £20.
At £1.50, Accrington have the cheapest pies in the whole of the Football League.
"They might cost less than others, but we can proudly say they are fantastic quality, made by a local supplier half a mile down the road," said managing director Robert Heys.
A few miles further north of Accrington, Morecambe offer a pie for £2.80. It is almost double the cost but the club now supplies them to Harrods' famous food counter where they cost more than £8.