Jimmy Bullard: The entertainer calls it a day
By Chris Osborne
BBC East Sport
Last updated on .From the section Football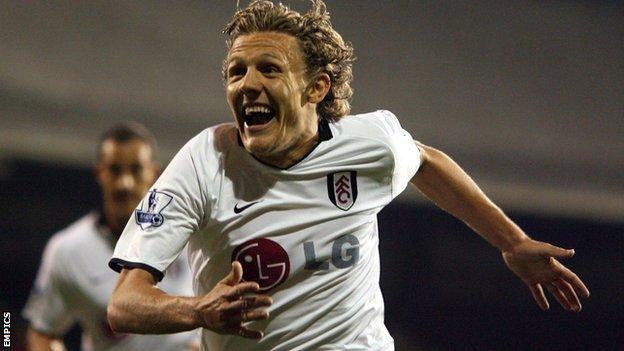 Jimmy Bullard marked his first day as a retired footballer with a fish and chip dinner.
Surely, now that his playing days are over, he can have fish and chips every night - should he wish.
"I did anyway mate," he says when the idea is put to him.
The suggestion that Bullard, the memorable midfielder for Peterborough, Wigan, Fulham, Hull, Ipswich and finally MK Dons, fuelled a 13-year professional career on battered cod is absurd but, not beyond the realms of possibility for a player who will be recalled fondly for his eccentricity.
The effects and at times excruciating pain of two major knee injuries have finally caught up with the 33-year-old and, three games into his spell at Karl Robinson's League One Dons, he has hung up his boots.
"I had just had enough of it. I spoke to Karl and said 'I'm thinking of calling it a day'," he told BBC East Sport.
"I just wasn't able to do the things I wanted to do. I spoke to my family and said 'I've only got to take one more whack on my knee and I don't think it's going to be able to take it'."
Bullard lost a combined 26 months of his career when his right knee, "the bad knee" as he coins it, twice failed to stay in one piece.
The first time was at Fuham in 2006, while the second came on his debut of
At his peak Bullard could run games of football, with energy, enthusiasm, tempo and, most importantly, genuine quality. But, alas, those days are behind him.
"I can't get to where I want to. And that's a little bit depressing," he explained, trying to come to terms with a decision he says hit him like a "sledgehammer".
"Three years ago on a Saturday, you know other players wouldn't be able to get near you. But now you're like 'oh my God'. I just felt so off it.
"My mind was saying 'you've done this before, you can do this'. But my body was saying 'pack it in'. Once the pain came I knew I had to stop - it's got worse and worse.
"I was getting worse as a player. I wasn't getting better. I thought I'll finish while I'm half decent. I don't want to finish while I'm rubbish."
The Bullard roadshow started humbly at non-league Gravesend & Northfleet, moved on to West Ham, where he failed to make a senior appearance, and took in a further six clubs.
But the moments that defined his footballing existence were the ones that underpinned his reputation as the class clown, the perennial joker.
Even on the day of his retirement he was at it, tricking a host of national and local newspapers into thinking he had joined Essex minnows Holland FC by allowing his photo to appear on their website under the headline "What a signing!".
"My dad's mate works there and said 'we'll wind a few people up'. It was only a wind-up. Everyone went for it," he explained with glee.
It is the latest chapter in a series of comical highlights for the Londoner, many of which are littered across YouTube.
They include leapfrogging over a pile of players during a goal-mouth scramble, looking at Duncan Ferguson as if the Scot was a maniac and mocking Phil Brown's infamous "dressing down" of his Hull squad during a goal celebration.
"A lot of it's off the cuff. The clips on YouTube - whenever people see me that's all they talk about," he said.
"They say 'you're mad, you are'. And I just say 'it's because I'm bored mate'. I don't know what comes into my head sometimes.
"I've done some cruel things. A few fellas have got the hump. But only because they've put it on me first.
"I'm not frightened of going over the top, that's the problem."
Amid all the laughs there is one thing that will forever be missing - an England cap.
Bullard was named in a handful of former boss Fabio Capello's squads, but never made it on to the pitch for a solitary minute of any game.
"I'd have loved that England cap," he admitted. "But he never played me did he?
"I kept trying to catch him, saying 'come on Faz put me on'. I think he thought I had already played. It killed me. But I got to the squad so that was good enough for me."
Bullard has always given off the air of a man who, win or lose, simply had a childish desire to chase a football around.
The game has been kind to him too of course, with Hull in particular feeling the financial toil of handing the midfielder a bumper wage as part of his £5m move to the KC Stadium.
But Bullard is still keen to give a little more back.
"I'd love to manage or coach. I think I'd be a good manager. I'd like to play fantastic football and entertain," he said.
"I think we'd play some good stuff. I'm not sure how much we'd win though - or if the chairman would like me."
Any future chairman of Jimmy Bullard will, undoubtedly, need a good sense of humour.
BBC Sport will be taking a closer look at stories from outside the Premier League before every weekend league programme in our Football League Friday features.