Anton Ferdinand thanks 'special' QPR fans for support
Last updated on .From the section Football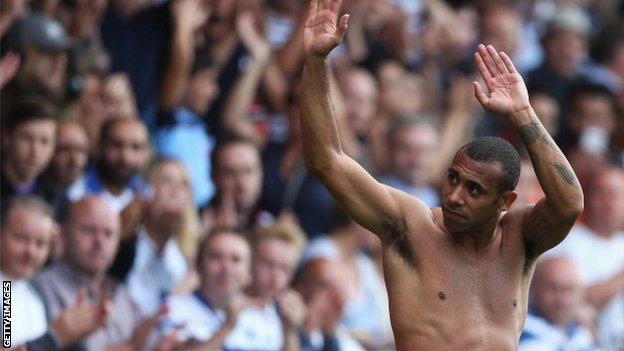 Queens Park Rangers defender Anton Ferdinand has thanked the club's "special" fans for their support during the recent game against Chelsea.
"They gave me fantastic support and I couldn't have got through the day without them," said Ferdinand.
"They kept me going. I want to thank them from the bottom of my heart."
Former England captain Terry was cleared at Westminster Magistrates' Court in July of racially abusing Ferdinand during a Premier League match at Loftus Road last October.
But the Football Association - which only had to prove its case on the balance of probabilities, rather than beyond reasonable doubt as is required under criminal law - reached a different conclusion last week.
After a four-day hearing, it handed Chelsea skipper Terry a four-match ban and fined him £220,000.
Terry has yet to indicate whether he will appeal against the ruling, but must do so within 14 days of receiving the written judgement.
Ferdinand refused to shake the 31-year-old's hand before the west London clubs' meeting on 16 September and told the club's website that the supporters "kept me going" for 90 minutes.
"It has been a difficult period for me but the fans have been special, they have been very good to me," said the defender, who missed Monday's defeat by West Ham because of a hamstring problem.
"The club on the whole, the lads and all the fans have given me incredible support. The backing I've been given is something I will never forget."