Andrea Masiello admits to deliberate own goal in Italy
Last updated on .From the section Football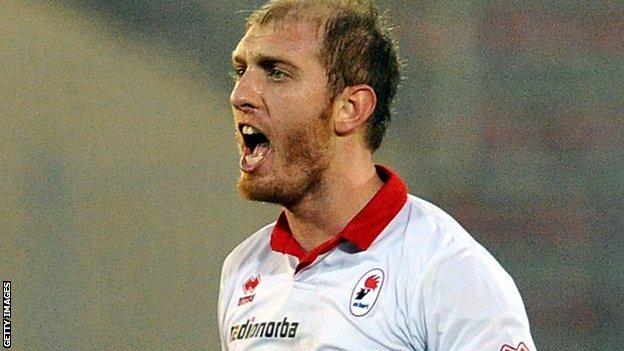 A defender has been given a 22-month suspended prison sentence in Italy after admitting to scoring a deliberate own goal in Serie A in May 2011.
Andrea Masiello, 26, who is currently without a club, confessed in court to intentionally diverting the ball into his own net while playing for Bari.
His side lost 2-0 to Lecce, who escaped from relegation with the win.
Masiello's confession, at a tribunal in Bari, ensured he avoided serving time in jail.
Despite Masiello's assistance, Lecce were subsequently relegated to Lega Pro level for their involvement in match-fixing.
Concerns had been raised over the last four games of Bari's 2010-11 campaign, with those matches having a direct effect on the relegation positions and qualification for Europe in the league.
Bari's 2-0 home defeat in front of 19,000 at Stadio Comunale San Nicola was sealed when Masiello deflected Lecce forward Jeda's goal attempt beyond his own goalkeeper, Jean-Francois Gillet, with 10 minutes of the game remaining.
Along with Lecce's demotion to the lower leagues, Bari had to start their Serie B campaign with a seven-point penalty.
Their punishment formed part of the wide-ranging investigation into the 'Calcioscommesse' scandal that also saw Juventus manager Antonio Conte suspended for 10 months in August.