Celtic: 'Best years of Lennon still to come', says Dermot Desmond
Last updated on .From the section Football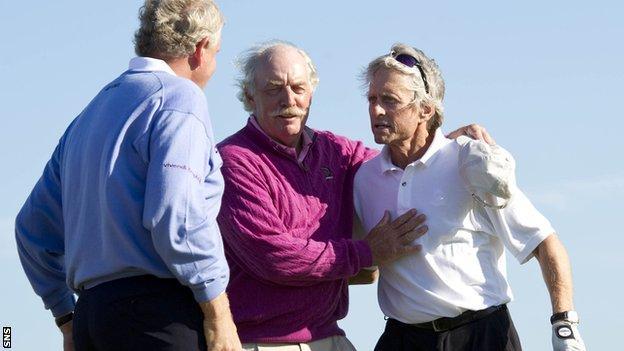 Majority shareholder Dermot Desmond thinks Neil Lennon can build on ending Celtic's long wait for an away win in the Champions League group stage.
Manager Lennon led his side to a 3-2 victory over Spartak Moscow in Russia.
"I'm thrilled that we've broken the record. It's not a record we can be proud of - our lack of success away," Irishman Desmond told BBC Sport.
"We were confident in the team and Neil's ability. The best years of Neil Lennon have yet to come."
Lennon's battling qualities were well known as a midfielder with Crewe Alexandra, Leicester City and Celtic.
But Desmond said there were many more factors that led to the Northern Irishman being chosen as Celtic boss without having managed elsewhere previously.
"Neil was a person we knew well," said the billionaire businessman and investor at the Dunhill Links Championship gold tournament at St Andrews.
"He was team captain, working with Gordon Strachan and Tony Mowbray, so we were familiar with his abilities.
"So it must be remembered that Neil served his appenticeship as a manager and we've got to give everybody time and he's performing really well.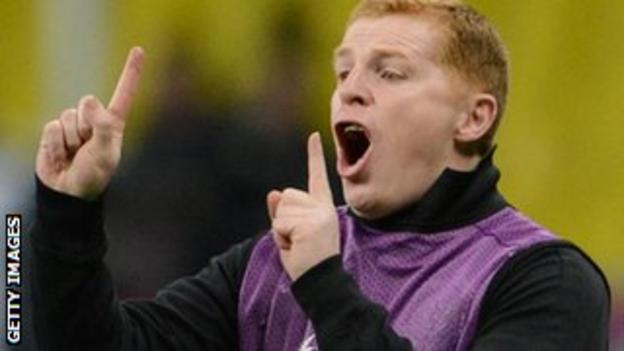 "His intelligence is underestimated. He analyses everything very well, he's very well read, he's continually seeking to improve his knowledge levels, he's building a strong team, he's not afraid to make decisions about the quality of the team he wants, he's a lateral thinker and, like the team Celtic, Neil, he's a work in progress."
Celtic sit second in Group G, two points behind favourites Barcelona, the Scottish champions having opened their campaign with a home draw against Benfica.
However, Desmond played down expectations, pointing out that the next hurdle for Lennon's side was a double header against the Spaniards.
"We've got a bigger and a very good squad with a lot of talented players," he added.
"Everybody at Celtic, from the management down involved in acquiring those players must be congratulated.
"But let's not run away with ourselves. We've only played two matches, we're playing Barcelona in the next two matches, probably, if not, the best team in the world.
"They are good results, but we are continuing to work hard to improve our team and the performance of our team."