Celtic backer Dermot Desmond misses rivalry with Rangers
Last updated on .From the section Football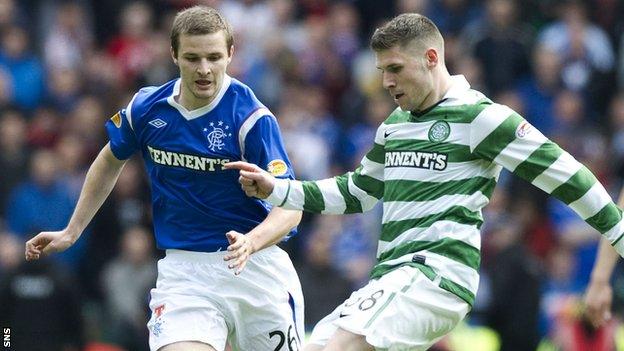 Celtic majority shareholder Dermot Desmond admits he misses the city rivalry with Rangers in the Scottish Premier League.
Rangers are playing in Division Three following a summer financial meltdown, leaving Celtic to dominate the SPL.
"For us, it's disappointing that they're not there," Desmond told BBC Sport.
"But that was a decision by the various clubs, a decision by the various leagues and we accept those decisions."
The only chance of an Old Firm derby this season will come in knock-out competitions, with the next possibility coming in Thursday's draw for the quarter-finals of the Scottish Communities League Cup.
Desmond was talking the day after Celtic ended their long wait for an away win in the group stages of the Champions League with a 3-2 victory over Spartak Moscow.
And he would have relished the continued domestic competition with Rangers at a time when he believes manager Neil Lennon has created a particularly strong squad.
"Rangers is a great football club, it has a great history and it's unfortunate that they have been relegated," said the Irish businessman.
"We would certainly like to contest with them every week - we believe we've got a better team and a better management structure.
"Rangers is a fantastic football club, it is one of the greatest football clubs in Great Britain, we've got to acknowledge that. But we can only look after ourselves."
Desmond is sure that the Ibrox club will eventually return to Scotland's top flight and believes they are needed there for the size of their support alone.
However, in the meantime, he believes that Celtic, following a summer of turmoil and division in Scottish football, can help lift the spirits of the nation by their exploits in the Champions League.
"There's been some controversial issues, but the performance in the Champions League certainly boosts everybody who takes a pride in Scottish football, pride in the club itself, but also it creates an appetite to support Scottish football in its entirety," he added.