Joe Hart saved Man City in Champions League - Mancini
Last updated on .From the section Football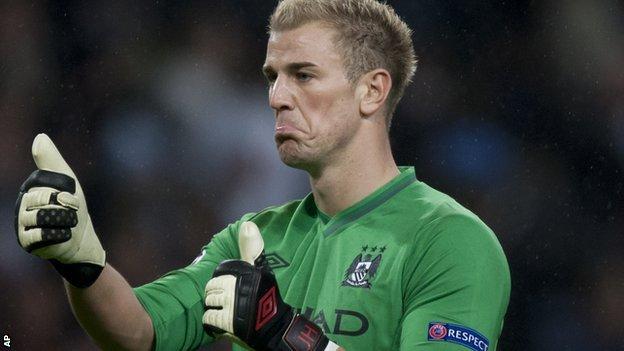 Roberto Mancini says Joe Hart saved Manchester City from Champions League defeat against Borussia Dortmund.
"Joe saved us. He did well," said boss Mancini. "We deserved to concede three or four goals. We didn't play well."
Manchester United striker Wayne Rooney tweeted: "Joe Hart has been incredible. Best keeper in the world."
Balotelli's goal means City, who lost their opening game 3-2 to Real Madrid, are third in Group D with one point from their two matches.
When asked by a reporter if it was the best performance by a goalkeeper in the history of football, Mancini replied: "I don't know about that. It was a fantastic performance. I don't know if it is the best performance in football history but he did very well."
City were outplayed for much of the match and Hart had little chance when Marco Reus capitalised on an error by Jack Rodwell to give the German side the lead.
"We weren't great. We were a bit open at the back," said Hart.
"They are a very good side. A lot of respect to them. It is open. Real smashed Ajax so it makes that game [for City] big in Amsterdam. These nights create drama. You could stick any side out there: my old side Shrewsbury under the lights and music; the game's played differently."
But he did not think the situation affected the rest of his team-mates.
"We have players we wouldn't have a table big enough to put all their medals on so it doesn't affect them either."
The draw leaves City five points behind Group D leaders Real Madrid and Mancini wants his side to show more "fight".
"We have to run and fight," said Mancini. "It's not enough to just pass. Champions League is another situation - different from the championship.
"It's not enough to just have quality."
"We didn't play well because Borussia Dortmund played better than us. They probably, at this moment, are a better team than us.
"If we want to play in the Champions League we have to play better."
City have made an indifferent start to this season after they won the Premier League title at the end of the 2011-2012 campaign, but Mancini is not unduly concerned.
"I know the problem and I will resolve very quickly this problem," he added.