Manchester City left facing uphill Champions League struggle
Last updated on .From the section Football552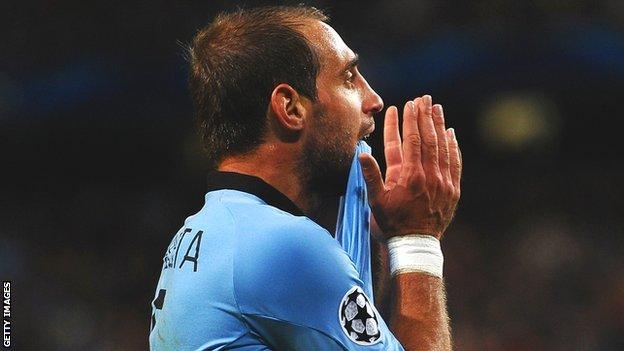 Manchester City must feel like a horrible nightmare is in danger of creeping back into their minds.
The wreckage of last season's Champions League campaign remains fresh in the memory and now Roberto Mancini is battling to prevent history repeating itself.
The champions of England were thoroughly outplayed by a rampant Borussia Dortmund side in a 1-1 draw at Etihad Stadium on Wednesday. It was a performance which gave City's hopes of progressing to the last 16 of Europe's premier competition a serious reality check, 12 months after the club crashed out at the group stage.
"One or two of the Manchester City side look like they're resting on their laurels," BBC Sport's Mark Lawrenson said.
"They're not the side they were last season. There is something fundamentally missing from them at the moment."
Mancini must feel the fates are conspiring against him, having drawn Real Madrid, Ajax and Dortmund after playing Bayern Munich, Napoli and Villarreal last season. City's first campaign in the competition ended in disappointment but from the toughest of groups, they claimed 10 points.
It was not a disaster, even with the hundreds of millions Mancini has spent trying to insure themselves against such setbacks, but as they slipped into Europe's second tier competition and prepared for Thursday night football, the club resolved to come back stronger this time around.
And yet this season's task is every bit as formidable. This was a difficult group from the moment it was drawn in August, but City have made it even harder for themselves by throwing away a lead with minutes remaining in Madrid and producing an indisciplined defensive performance against the German champions.
City have plenty of room for improvement. Inspired by Ilkay Gundogan's midfield generalship, Mario Gotze's prodigious work on the wings, stellar finishing by Marco Reus and a workrate and ambition that glowed throughout the team, Dortmund were a sight to behold.
Unstoppable as they might feel in the Premier League, City have found life difficult on the European stage.
Difficult, though, does not begin to describe a chastening evening in which Joe Hart had to be at the peak of his powers as Dortmund and their raucous, rowdy supporters simply outperformed the champions of England.
"The Champions League is totally different from the championship," Mancini said.
"If you concede like we concede this evening, it is hard to win. If you don't defend, if you don't run like Borussia Dortmund did this evening, it is difficult. This is my problem - is my job. I will solve this problem."
Mancini must now address the "problems" he referred to at the final whistle. This was a performance that epitomised his team's faltering progress this season: style but no substance, beauty but no brawn, panache but no penetration.
They were outnumbered and occasionally swamped in midfield by opponents who defended far more obdurately and counter-attacked far more proficiently than those they face in the Premier League.
Vincent Kompany looks unrecognisable to the formidable leader he was last season, while there is a worrying lack of width in midfield. The yellow card that the Belgian was shown in the 28th minute, for a cynical block on Reus, will rule him out of the match against Ajax on 24 October.
It would be foolhardy to rule out a team who clinched the Premier League title in the manner City did last May. With their fate hanging by a thread against Dortmund, City salvaged a point they did not deserve thanks to Mario Balotelli's late penalty and Hart's heroics to ensure their hopes of qualifying are still realistically intact.
Mancini will cling to that as he prepares for matches home and away against Ajax before a potentially defining trip to Germany.
Beware the wounded animal. Disappointment does not rest easy with Mancini but there is much to do if they are to prevent the nightmare from becoming a reality.