Manchester United miss Phil Jones, says Ron Atkinson
Last updated on .From the section Football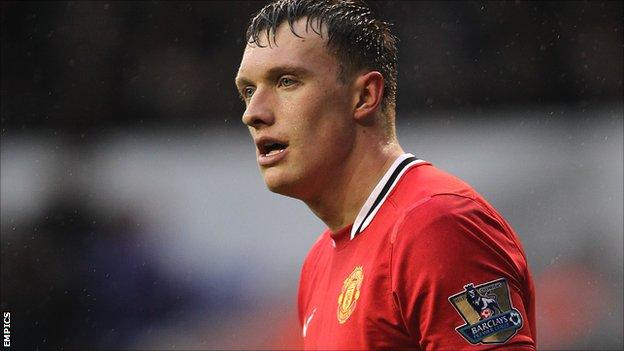 Ron Atkinson believes the absence of Phil Jones has been a key factor in Manchester United's defensive problems early in the Premier League season.
"They've had injuries in defensive areas but I think they've missed Phil Jones," former United manager Atkinson told BBC Radio Manchester.
"If he can get himself fit, he might solve a big problem for them."
Speaking on Red Wednesday, Atkinson continued: "I think he's an excellent right-back and is probably going to end up at centre-half.
"But in some of the games I saw him play in midfield last year, he was strong, he could run, he got behind people and he put himself about."
England international Jones has played 41 times for United since moving to Old Trafford from Blackburn in a deal thought to be worth around £17m.
Sir Alex Ferguson's side have kept just two clean sheets in the nine matches they have played in all competitions this season, and only one in six Premier League outings, against Wigan on 15 September.
"When you look at them through the years, they've had a Bryan Robson, a Paul Ince or a Roy Keane," added Atkinson, who was in charge of United between 1981 and 1986.
"I think Fergie would love somebody like that to play in there now. Great players, but someone who will frighten the opposition a little bit when they've got the ball.
"There's been a lot of criticism of the back four and maybe sometimes it's because they haven't got a midfield destroyer in front of them that puts the back four under more pressure."