Zimbabwe's Sadomba among seven cleared of match fixing
By Steve Vickers
BBC Sport, Harare
Last updated on .From the section Football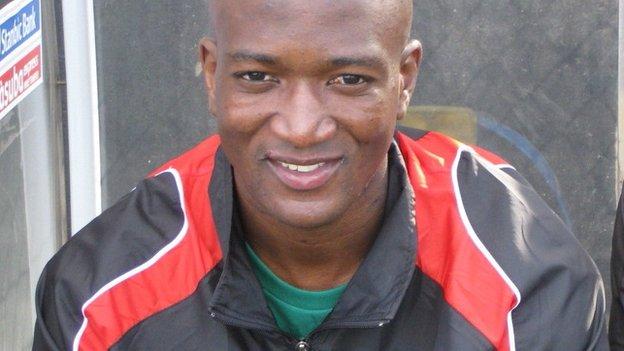 Zimbabwe's chances of qualifying for a third Africa Cup of Nations finals have been boosted with the clearance of seven players in the ongoing match-fixing investigation.
Earlier this year the Zimbabwe Football Association (Zifa) decided that all players under investigation should be excluded from the national team.
The squad for the final round, second-leg match away to Angola will be strengthened with the availability of Sudan-based striker Edward Sadomba amongst others.
Also available will be two in-form South Africa-based forwards, Cuthbert Malajila and Kingstone Nkatha.
The Warriors lead 3-1 from the first leg, but have injury problems, as captain and goalkeeper Tapuwa Kapini is out for several months.
Now coach Rahman Gumbo is able to draft in former national team keeper Energy Murambadoro and Ephraim Mazarura.
"It's entirely up to the technical team to select these players that have now been made available," said Zifa president Cuthbert Dube.
An initial group of 33 players was cleared in May, but the independent committee that is investigating the allegations still has to conclude the cases of 59 other players.
Dube believes that the damaging two-year investigation will be finished soon.
"We have been told that the report will be handed over to us on the 11th of this month, we are anxious, the whole nation is anxious," he said.
An initial probe looked at tours to Asia between 2007 and 2009, where some players have admitted that they were paid to lose games.
The investigation then widened, and one of the players worst-affected was midfielder Justice Majabvi, one of those who have now been exonerated.
When Majabvi's contract expired with Austrian club LASK Linz, the team would not consider him until his name was cleared, and he eventually moved to Vietnam.
The match-fixing saga has been a dark chapter in Zimbabwean football, but the availability of the seven players gives the Warriors an opportunity to lift the mood by qualifying for the Nations Cup for the first time since 2006.