Graham Westley unhappy with 'gamesmanship' claims
Last updated on .From the section Football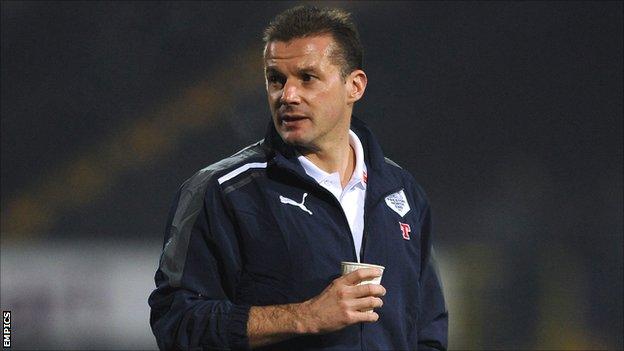 Preston manager Graham Westley says he is "sick to death" of his teams constantly being accused of "dark arts" to gain an advantage over opponents.
Westley has defended his players after two were accused of making the most of injuries to waste time in the
"It starts to happen to any side that's got success on the horizon," Westley told BBC Radio Lancashire.
"People start pointing fingers to try to take an edge away from them."
The former Stevenage boss, who said he had heard the claims of gamesmanship against his team from various parties, continued: "Our re-emergence is starting to frighten people, for sure. We've got to make sure we just stay focused on our job."
Preston are seventh in League One after picking up a third win in four league games at the Keepmoat Stadium.
"Our lads were highly professional," said Westley. "They won the game because they scored three goals and only conceded one.
"They won the game because they work hard on the training ground. They won the game because they were professional in their preparation and disciplined in their performance.
"It beggars belief that this nonsense actually gets listened to and I'm sick to death of it. Because you're winning, you're guilty of dark arts.
"You get word from players too.
"I remember John Mousinho playing for me [at Stevenage] last year. He was forced to walk off the pitch with an injury because he was accused by a referee of feigning injury.
"He broke his foot in the incident and he had to walk off with a broken foot. He was out for six months, and I don't know whether that six-month injury would have been a three-month injury if he hadn't had to walk off with a broken foot.
"It's got serious repercussions, all of this nonsense.
"When I see Paul Huntington and David Buchanan going down and being forced off the pitch through the injuries they've taken, and people are talking about gamesmanship - as I say, it's one of the things that you're going to face if you're successful.
"Manchester City face it, Manchester United face it - everyone starts pointing fingers at sides that look as though they're going to be successful because they want an excuse for themselves."