Newport promotion push surprises boss Justin Edinburgh
Last updated on .From the section Football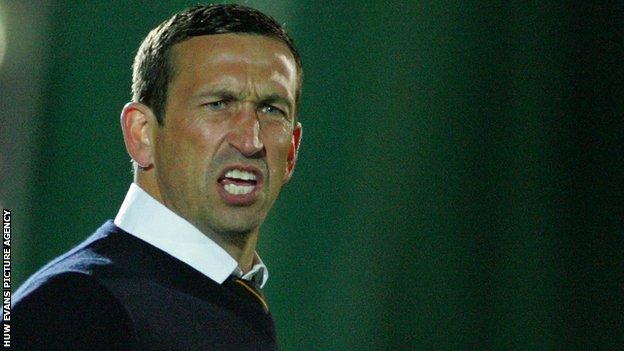 Newport County manager Justin Edinburgh admits to being surprised by his side's early promotion push in the Conference Premier.
They avoided relegation last season and brought in a host of new names over the summer.
That prompted Edinburgh to come to the conclusion they would be mid-table at best at Christmas.
But they go into Saturday's clash with Tamworth second and Edinburgh said: "We're well ahead of schedule."
If Newport's Welsh rivals Wrexham beat Forest Green and County triumph over Tamworth, Edinburgh's side will return to the top of the league.
He brought in nine new players during the summer including strikers Aaron O'Connor and Danny Crow.
And earlier this week County recruited Conor Washington from St Ives Town, who play in the ninth tier of English football.
They have won eight games in 12 starts this season, drawing twice at home and losing twice on the road.
That is far from Edinburgh's best hope for the first-half of the season.
He said: "I stated before the start of the season that I thought that if we were in or around the top 12 at Christmas, then that would be a fantastic achievement.
"But… we're well ahead of schedule and while we're there we certainly don't want that to slip away.
"But it has surprised me.
"And going from being in a relegation battle last season to being up the top is certainly more enjoyable than where we were."
Edinburgh says their success is down to hard work and hopes the city is enjoying the club's promotion bid.
"I think we're excited and everyone in around and connected with the city must enjoy it because we're 12 games in now, we're second in the league and that's not by luck or chance - that's from being consistent - consistently very good and working very hard to get results.
"So we're there on merit and certainly now [and]... we want to maintain that.
"That's the difficult one.
"We've been at the top and we've being chased down by Forest Green.
"We want to get back to that top mantle now and we're enjoying where we are and hopefully that can continue."