Europa League: Uefa tell managers & players to talk it up
Last updated on .From the section Football333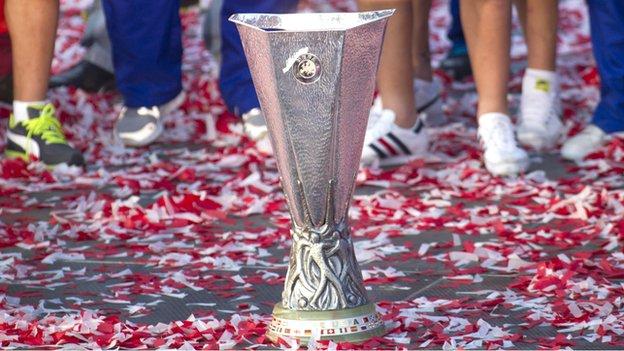 Uefa hopes to boost the Europa League's profile by asking managers and players to refer to it in glowing terms.
European football's governing body is handing out prompt sheets to the communication departments of Europa League clubs before media conferences.
The sheet, headlined "Discover the Drama", includes phrases such as "prestigious" and "rich in heritage".
"The most important quality we want to communicate is that the Uefa Europa League is dramatic," it reads.
The Europa League continues to be overshadowed by the Champions League, despite a high-profile rebranding of the competition in 2009.
Winners of the Champions League take home £7.24m, while the Europa League winners earn a third of that and the difference in TV revenue is also vast.
The prompt sheet - found at Tottenham's media conference ahead of in Athens - asks press officers to brief players and coaches on the Europa League's virtues.
Other British clubs in the group stages include Liverpool and Newcastle.
"At the start of the press conference, below messages should be used by the club press officers," reads the prompt sheet.
"In addition, they may also be used by club press officers when briefing coaches and players as their would be of great support to us."
It then provides the following lines of advice:
Uefa Europa League is prestigious - it provides clubs, players and fans with the challenge of competing in European football for an elite trophy.
Uefa Europa League is rich in heritage having provided some of European football's most memorable moments and characters in recent years.
Spurs boss Andre Villas-Boas, who in 2011, praised the competition on Wednesday.