Nigel Pearson backed by Leicester City's Thai owners
Last updated on .From the section Football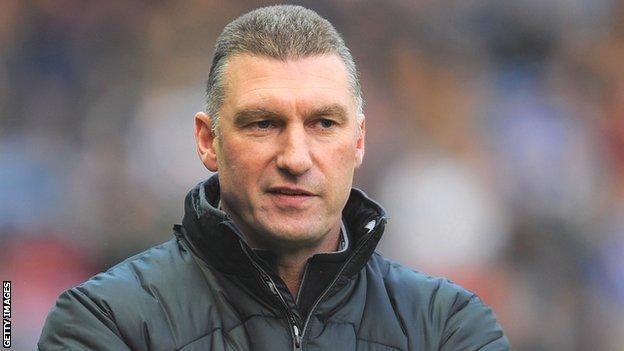 Leicester City's owners have dismissed speculation that manager Nigel Pearson faces the sack as "unwarranted and inaccurate" and insist he remains a key part of their long-term vision.
And despite climbing to second in the Championship table, Harry Redknapp has been linked with Pearson's job.
But a statement said: "Nigel has and continues to retain our total support."
Pearson has steered the Foxes to within a point of the top of the table on the back of five wins from their last six matches.
But their mixed start, which saw also them suffer a humiliating Capital One Cup defeat at the hands of League Two side Burton Albion, prompted talk that the big-spending Thai owners had lost faith with the boss they only appointed in November 2011.
The Raksriaksorns are desperate to bring Premier League football to the the King Power Stadium as soon as possible and rumours that Redknapp has been lined up to take over from Pearson have refused to go away.
The club statement continued: "Since our arrival in Leicester, it has always been our stated aim to deliver a long term sustainable platform for success.
"Given the recent unwarranted and inaccurate speculation in relation to our manager, we wish to set the record straight in the most unequivocal manner.
"Nigel has and continues to retain our total support in helping us to deliver our stated long-term aim of achieving footballing success.
"Nigel is absolutely key to what we are trying to achieve. In the summer, we again invested heavily both in terms of senior playing recruitment and in the long-term development across all levels of the footballing structure of the club.
"This reflects our continued faith and support in the football management of the club. Our appetite and desire to achieve success with Nigel as our manager remains undiminished."
Pearson said he returned to the club to begin his second stint as manager because he shared the "long-term vision" and "ambition" of the owners.
He added: "Earlier in the week I dismissed the speculation as nothing more than a minor irritant. My focus is, has, and always will be to deliver results on the pitch.
"I enjoy an excellent working relationship with the owners and directors and all my energies and those of my staff are totally focused on Saturday's home game with Bristol City."