Paul Jewell expects Ipswich Town to recover from 'horrible spell'
Last updated on .From the section Football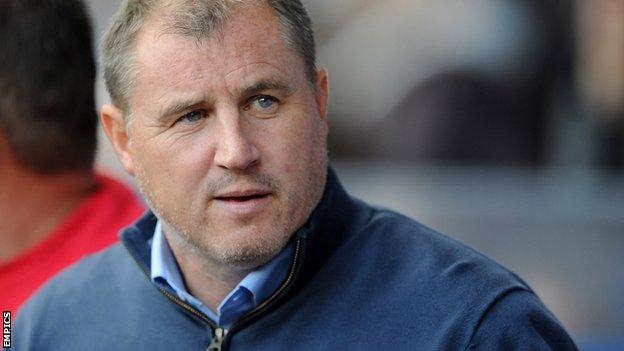 Ipswich Town's players are giving everything they have to drag the club up the Championship table, according to manager Paul Jewell.
Jewell believes his squad cannot be faulted for determination and effort, despite lying in the relegation zone.
"You know when players aren't giving everything and they are giving everything," he told BBC Radio Suffolk.
"Everyone wants to batter us but we have to close ranks and fight our way through this horrible spell."
Preparing for the televised visit of league leaders Cardiff City on Saturday, Jewell took encouragement from Town's 1-1 draw away at high-flying Brighton on Tuesday.
"Given the situation we're in and the opposition I thought it was an excellent performance," he said.
"We scored a really good goal, could have had a couple more and we stopped a really good side playing for long periods of the match.
"Cardiff are going well, but in this league every team is capable of beating each other, just look at the results.
"Barnsley go to Birmingham and win 5-0, then draw at home against us, second-bottom, and lose at home to Peterborough who are bottom."
Jewell admits he has been pleased with the defensive impact made by the experienced Danny Higginbotham, brought in on a month's loan from Stoke City last week.
"He's very steady and he brings an experience to the difficult situation we find ourselves in," added Jewell.
"He's been there before, he's a calming influence, an organiser and a man - and in the situation we're in we need some men."
With Stoke boss Tony Pulis having indicated he would be open to the idea of extending Higginbotham's loan period at Portman Road, Jewell indicated he would talk to Higginbotham about the situation after this weekend's match.