Aston Villa boss Paul Lambert and Norwich City sue each other
Last updated on .From the section Football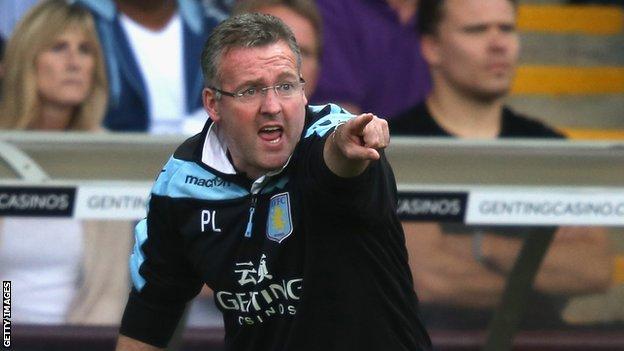 Paul Lambert has revealed his former club Norwich City are suing him because of his decision to leave Carrow Road for Aston Villa this summer.
Lambert said he was "extremely disappointed" at the comments, adding: "What Norwich haven't made public is that they are suing me.
"I'll let him (Bowkett) say what he has got to say and we'll see what happens."
Before leaving for the Midlands on 2 June, Lambert spent three years at Carrow Road, guiding the club to back-to-back promotions from League One before finishing 12th in last season's Premier League.
The Scot's exit was a messy one, with Norwich rejecting his resignation and struggling to agree a compensation package with Villa.
Speaking at a Carrow Road fans' forum, attended by approximately 130 people, Bowkett said Lambert was seeking between £1.5m and £2m.
A Premier League Managers' Arbitration Tribunal will decide on the case next spring and Lambert has said he will be represented by the League Managers' Association (LMA).
"I'm extremely disappointed that senior officials at Norwich have made comments in relation to myself," the former Celtic and Borussia Dortmund midfielder responded.
"The LMA are acting on my behalf. They supported me at the time and still are.
"It is disrespectful and wrong to that tribunal for me to comment any more.
"That's the way I'm going to leave it. My main concern is Aston Villa.
"Am I concerned Norwich fans are only hearing one side of the story? In a word, 'yes'."