Ashley Cole sorry for outburst over FA's John Terry ruling
Last updated on .From the section Football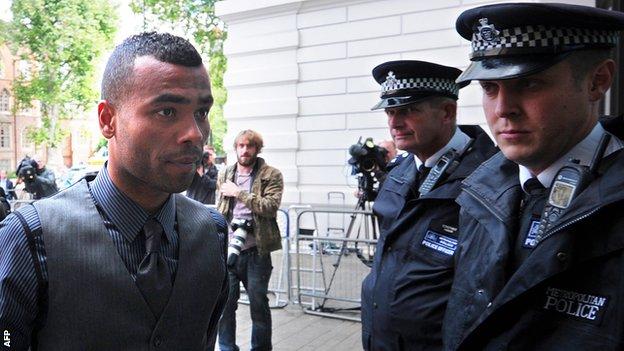 England and Chelsea defender Ashley Cole has apologised "unreservedly" for criticising the Football Association after his was questioned.
Cole, 31, responded on his official Twitter account: "Hahahahaa, well done #fa I lied did I, #BUNCHOFT***S".
He later deleted the tweet and issued a statement apologising for his outburst.
"I had just finished training and saw the captions on the TV screens in the treatment rooms about what was said in the FA commission ruling about me," it read.
"I was really upset and tweeted my feelings in the heat of the moment. I apologise unreservedly for my comment about the FA."
England manager Roy Hodgson spoke to Cole by phone on Friday afternoon and the player is expected to report as normal on Monday with the rest of the squad for two forthcoming World Cup qualifiers.
Chelsea captain Terry was banned for four matches and fined £220,000 after the FA's independent commission found parts of his defence were "improbable, implausible and contrived", adding that, while the defender was "not a racist", it was "satisfied" his comments were used as an insult.
The commission also cast doubt on the evidence of Cole, who had played in the game against QPR and given a statement in support of Terry to the criminal trial
One of the chapters contained within the report is entitled the 'evolution of Ashley Cole's evidence' and claimed he amended his witness statement by adding the word "black" to help Terry's defence.
Cole tweeted his anger at the FA at 12:51 BST on Friday, about three hours after the commission's 63-page report was released and during Chelsea manager's Roberto Di Matteo scheduled news conference ahead of their Premier League match against Norwich City.
The player, who has been capped 98 times by England, has more than 400,000 followers on Twitter. His tweet was deleted after 90 minutes but not before it had been retweeted more than 20,000 times.
Di Matteo was asked if it was an appropriate comment to make, but Chelsea press officer Steve Atkins intervened.
"I would say not, but again I think we should reserve any comment on that until the more appropriate time," said Atkins.
Di Matteo added: "I judge the players on what I see when they train and play. I try and select a team that will hopefully be able to win against Norwich. That is my job.
"I always said about the social networks that it is a good vehicle if used appropriately. Players need to realise that tweets can be viewed by anybody and they have to be responsible. I do not think the players, apart from this, are out of control."
Former England striker Gary Lineker called Cole's tweet "astonishing".
"I suggest a rapid apology Ashley. Been a great England player, don't tarnish it," Lineker wrote on Twitter. "Whether you think he is right is not the issue. It is the manner of the tweet that is ill-advised in my view."
An FA spokesman said his organisation was aware of the Cole tweet but declined to comment.
On Thursday, Cole was selected in Hodgson's England squad for the World Cup qualifiers against San Marino and Poland.
England play San Marino at Wembley on Friday 12 October at Wembley, before travelling to Warsaw to face Poland four days later.
If Cole played in both matches, he would hit the 100-cap mark.
Asked if he should now feature in those games, Di Matteo added: "I think it is for Roy Hodgson to decide."