Hereford United chairman warns Bulls may go part-time
By Trevor Owens
BBC Hereford & Worcester
Last updated on .From the section Football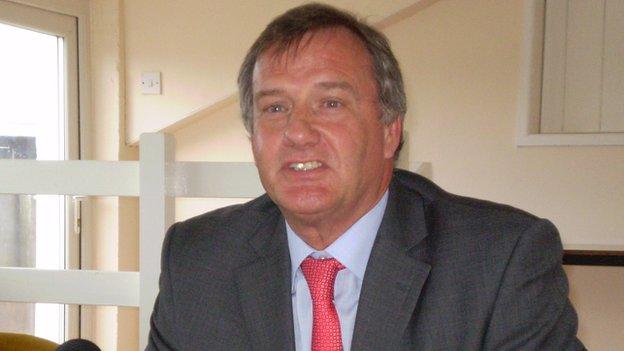 Hereford chairman David Keyte has warned they may have to go part-time as they cannot go on losing money at their current rate of over £8,000 a week.
The Bulls' board budgeted for home gates of around 2,400 this season, but have so far averaged just 1,819.
"At £11-12 on average per ticket, then that's the wrong end of £8,000-9,000," Keyte told BBC Hereford & Worcester.
"I'm sure part-time football would be on the agenda. We need to look at every single angle to keep moving forward."
He added: "If it's the case this is where things are going to be for a few years now, then maybe prudently we should be thinking that."
The Blue Square Bet Premier club knew that there would have to be budget cuts at Edgar Street after being relegated from the Football League in April for the second time in 15 years.
But their six home games so far have brought a disappointing response in the stands, mirroring the poor run of form that followed the Bulls' bright start of 10 points from their first four matches.
And, on top of the fall in gates, Hereford have also been landed with a sizeable bill following a routine VAT audit.
"They're suggesting we owe about £45,000, predominantly from the 2008-09 season," adds Keyte.
"It's one thing to be battling away week by week, but it's a bit beyond to have to face up to the fact you have to pay for previous debts.
"We are trying to negotiate some kind of payment scheme."
The Bulls' chairman, who owns only 16% of the total shares at Edgar Street, has now called a shareholders meeting for later in the month aimed at attracting new investors.
"We would welcome conversations with anybody who thinks they can help," he said. "But it is a difficult time at the moment.
"I have got to accept that the business sense to it, in the eyes of people who might have money, probably doesn't stack up.
"With football up and down the country struggling with low attendances, it doesn't stand out as an obvious investment.
"On a personal level, I possibly have some regrets about carrying it for the past three years. Now is the time for the people in Herefordshire to say: 'We need to be helping'."