Martin Jol accuses Bobby Zamora of "sour grapes" in Fulham row
Last updated on .From the section Football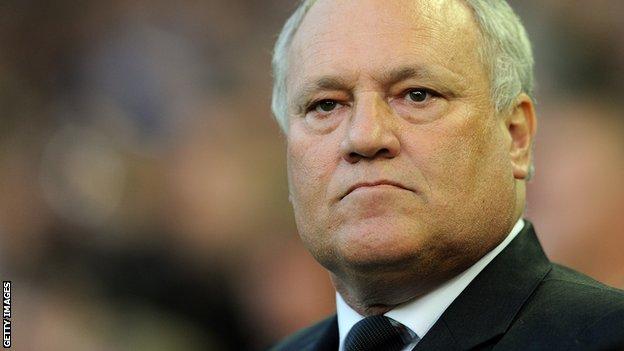 Fulham boss Martin Jol has accused Bobby Zamora of "sour grapes" after the ex-Cottagers striker claimed many players do not like the Dutchman.
Several high-profile players have left Craven Cottage in recent months, which Queens Park Rangers frontman Zamora believes is down to issues with Jol.
But ex-Tottenham manager Jol responded: "It is probably sour grapes.
"If players do well and work hard, I try to get a good relationship with them. If not, I don't."
England international Zamora, 31, was sold to west London rivals QPR in January and admits he did not enjoy a happy relationship with Jol.
Cottagers fans have also watched the likes of Mousa Dembele,Clint Dempsey and Danny Murphy leave over the summer, prompting Zamora's claims of disharmony within the Fulham squad.
But Jol has denied any problems ahead of his team's Premier League trip to Southampton on Sunday.
He said: "I think nothing is what it seems. Everyone knows me. The players know me so one player will say this, another player will say that.
"It doesn't matter. I don't care. For me, the most important thing is we get the results so you will have to ask the players."
Jol claims he has faced criticism from Zamora since taking over at Fulham from previous boss Mark Hughes and says he finally lost patience with the striker after negative stories appeared in the media.
"Insiders here know that this probably started after two weeks of me being here," he added.
"There was a few leaks in the paper and I asked him and he said 'no, it wasn't me'. I knew it was him and his agent 100%.
"He said 'no, it wasn't me, I hate the press'. He hated defence and later said he hated crosses as well and that was the moment I thought 'maybe it is better to sell' and that is what we did."