Former Celtic striker Henrik Larsson dismisses Blackburn links
Last updated on .From the section Football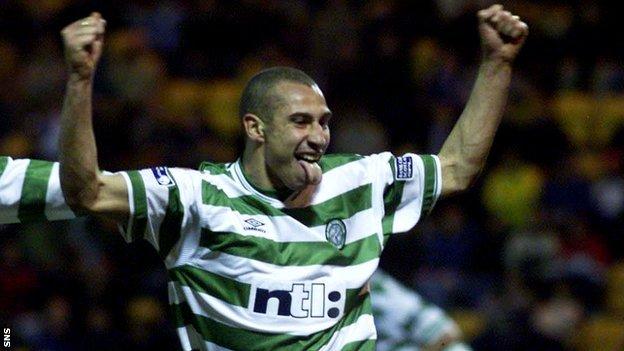 Former Celtic striker Henrik Larsson has dismissed rumours linking him with the managerial vacancy at Blackburn .
Larsson, manager of Swedish side Landskrona, said he has had no contact with the club and is unaware what has motivated the rumours.
"I haven't had any contact with any other club at this point," he said.
"I don't know how that rumour with Blackburn came up, because I don't have any connections to the club."
And the former Sweden international ruled out contact with former Celt Eric Black, named as Blackburn caretaker manager following the resignation of Steve Kean, as the foundation to the link with Rovers.
"I don't have any contact at all with Eric Black,"
"I had him for a brief spell at Celtic, he was caretaker manager there before Jozef Venglos came in and took over."
However, Larsson told BBC World Service's Sportsworld that he would be interested in managing a club of the size of Blackburn.
"I have dreams as a manager as well as I had as a player.
"I want to be as good as possible and I want to be on the highest level.
"At this time no-one has approached me and I can't afford to sit here and say I won't do that and I won't do that.
"I mean, if anybody's contacting me then I have to have a look at it and see if it's something that appeals to me, or if it's possible with the family and everything.
"I will always listen to an offer and take it into consideration."
Larsson played for seven years at Celtic before joining Barcelona, with whom he won the Champions League the following season.
He became , but his contract has now expired and he plans to see out the rest of the season before considering his options.
The 106-times capped Sweden international also thought that the Scottish Premier League had become a less competitive league without Celtic's Old Firm rivals, Rangers.
"I don't think it's good for Scottish football.
"Celtic needs Rangers, they need the competition in order to keep the game at a good standard and in order to attract the good players.