A new dawn for Congolese football?
By Kennedy Gondwe
BBC Sport, Lusaka
Last updated on .From the section Football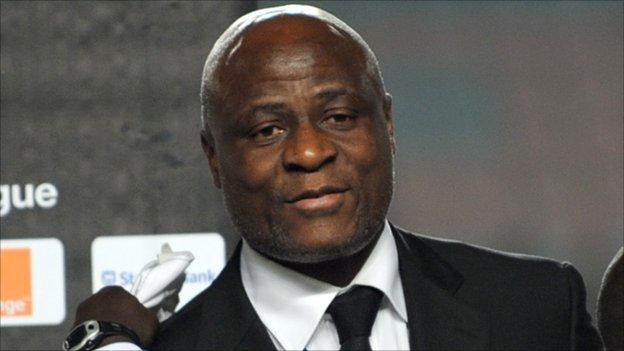 The head of the DR Congo's football federation has predicted a fresh new dawn for the game in his country.
The Leopards are all but through to the 2013 Africa Cup of Nations finals after a 4-0 victory over Equatorial Guinea in the first leg in Kinshasa.
Barring a catastrophic collapse in Malabo next week, the DR Congo will be one of 16 finalists in South Africa.
The two-time African champions last appeared at the continental showpiece at the 2006 finals in Egypt.
But Omari Selemani believes qualification for the 2013 finals will herald a new era for the sport in his vast nation.
Omari told BBC Sport that the relative peace his country is experiencing will change see a big change in the fortunes of Congolese football.
"In football, anything is possible, but I'm certain that we will go to the finals," Selemani said.
He added: "We've had many problems, like war and poverty, but there's a feeling of stability in the country now.
"Our football is improving as the country's financial and economic positions also get better."
The rise of the Leopards has also coincided with the re-appointment of Claude LeRoy as national coach.
The Frenchman was in charge when the DR Congo last appeared at the Africa Cup of Nations finals six years ago.
"I'm convinced that LeRoy has brought a new fighting spirit to the team," Selemani said.
He also pointed to the success of TP Mazembe in continental club football as one of the key factors in the progress of the national team.
"TP Mazembe has had a big impact because six or seven of their players are in the Congolese team.
"A good national team needs a good coach and a good nucleus of players; TP Mazembe provides that nucleus.
"We also have young players in Europe who are well motivated; these factors have led to our improvement."
Omari conceded that despite all the positives in Congolese football at the moment, the national side still needs to be underpinned by a competitive domestic league.
To this end, regional leagues that were used to determine the Congolese champions have been abolished and replaced with a national Premier League.
"Our role as administrators is to give the players what they want - a good trainer and a positive atmosphere.
"For us, the African Cup of Nations will be used to prepare the team for the World Cup in 2014."