Graeme Le Saux queries policing of players' use of social media
Last updated on .From the section Football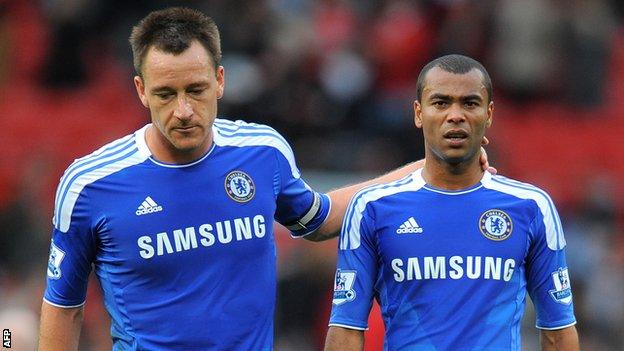 Former England left-back Graeme Le Saux says the Football Association must make players aware "there are consequences" for inappropriate use of social media.
"It has become disproportionate, and players just feel they can say and do what they want," Le Saux told the BBC.
Le Saux, 43, is working with the FA to guide players on how they communicate.
Cole's tweet, which he later deleted, came after his evidence to an independent FA commission which found John Terry guilty of racially insulting Anton Ferdinand during a match between Chelsea and QPR last season - an offence Westminster Magistrates' Court previously cleared the centre-back of - was queried.
Despite his tweet, 31-year-old Cole spoke to England manager Roy Hodgson by phone and is expected to report as normal on Monday with the rest of the international squad for two forthcoming World Cup qualifiers.
"If you are going to criticise football the one thing I would completely agree with is there are certain players out there, and I am not particularly picking on Ashley Cole, that forget some times that they represent an employer, industry and governing body which is the FA," Le Saux added on BBC Radio 5 live.Sport.
"At some point, the FA need to reset this relationship, so that people know that they are in charge and that there are consequences to negative action.
"I think it is important at some point a line is drawn in the sand and it is really well defined. If we can take some positives from the John Terry case and the subsequent fall-out, maybe a line can be defined and it can be shown what any punishment would be.
"The whole pleasure and access that social media gives you is that you are in control of what goes out there, but you must be sensible enough to hold that back."
Former Southampton, Chelsea and Blackburn Rovers defender Le Saux is currently helping to make videos for the FA which will be shown to players about how the governing body operates and the punishments they can hand out for unacceptable behaviour, including the use of social media.
The FA's guidelines to players warn against making improper, threatening, abusive, indecent or insulting comments.