Kettering Town field 10 players in 7-0 defeat
Last updated on .From the section Football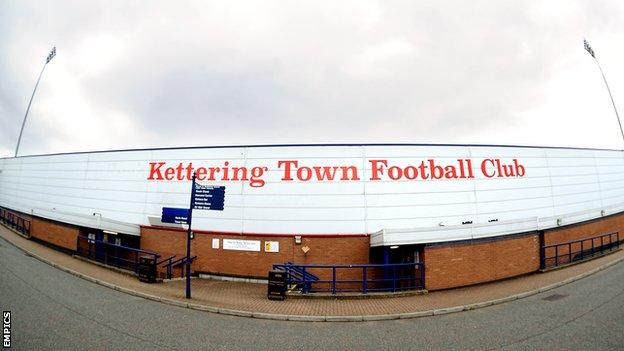 Kettering could field only 10 players against Bashley, with the club struggling to pay their squad.
A number of players gave the Poppies a 14-day ultimatum to be paid their wages or else they would leave Nene Park.
That deadline expired before Saturday's match and Poppies lost the Evo-Stik Southern Premier encounter 7-0.
"If I could tell you a solution I would but I can't see a way forward. I was in tears at the end," caretaker-boss Alan Doyle told BBC Radio Northampton.
The club's manager John Beck was asked to step aside prior to their FA Trophy match against Concord Rangers, but he has confirmed that he has not been sacked, nor has he resigned.
Doyle did have 11 players on the teamsheet prior to the match, but reserve goalkeeper Ben Gathercole, who had been set to play outfield, failed to turn up for the fixture.
"I rang him this morning and told him I needed him to play, but he said he was owed money by the club," said Doyle.
"I told him that I would give him some money out of my own pocket and he said he'd come in, but then he stopped answering his phone."
Doyle revealed that following news that many of the squad had left the club earlier this week, Kettering - who had debts totalling £1.2m prior to agreeing a company voluntary arrangement with creditors - tried in vain to bring players in for the Bashley game.
"We tried to sign some players on non-contract terms, we had five players to register," he added.
"The FA told us on Thursday night don't bother sending them in because there's an embargo on the club.
"They said that you can't sign any more players because you've already registered 30, of which 15 or 16 were players that John [Beck] had signed on contracts for trials. They never even played for the first team.
"We fought all day Friday, all the way up until 12 o'clock at night and then early this morning we were told there was no way we can sign players.
"And at the bottom of the email that we got it says 'we'll fine you if you don't put out a team'."
The club's major shareholder Imraan Ladak took charge after Ritchie Jeune had seemingly replaced him as chairman.
However, caretaker boss Doyle admitted he is yet to meet Ladak face-to-face.
"I've never met him in my life, I had one phone conversation with him six weeks ago asking how my job was," Doyle said.
"I got a text message through asking me to be caretaker manager.
"In life, if plan A doesn't work then you go to plan B or C. But we don't seem to have a plan B or C.
"There are some lovely people here but I can honestly say I can't see what we can do about this.
"I don't know if we will be able to put a team out again. I can't sign any more players, one of them got a knock and one of them said to me he doesn't want to play any more, so that's us down to eight."