Stewart Downing left out of Liverpool squad against Stoke
Last updated on .From the section Football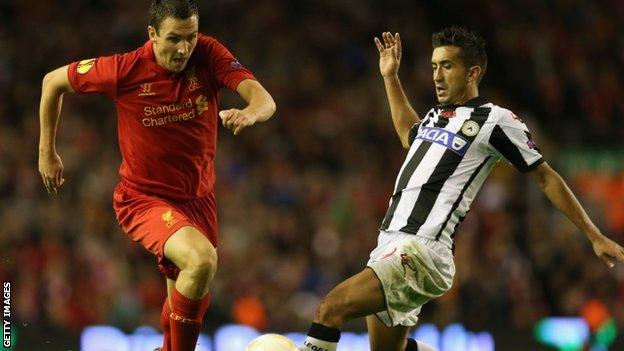 Stewart Downing has been omitted from the Liverpool squad for Sunday's Premier League match against Stoke.
The winger has been quoted in a number of papers as being upset by manager Brendan Rodgers's criticisms of him.
Rodgers questioned the £20m signing's hunger and desire last week, saying: "talent alone is not enough".
Downing said: "I'm disappointed. If that's how the manager sees it then there's nothing I can do. I would have preferred it if it was private."
The England international, one of the club's most expensive signings when he arrived at Anfield in July 2011, has not started a Premier League match since this season's opening 3-0 defeat by West Brom.
Downing began Thursday's Europa League tie against Italian club Udinese, which Liverpool lost 3-2 at Anfield.
Rodgers described his players as "lazy" following Thursday's defeat and made eight changes from the Europa League team for the match against Stoke, with former Middlesbrough player Downing not even making the bench.
"I was upset but you'd have to ask the manager what he meant by it," said Downing ahead of Sunday's match.
"Bravery is a lot of things. It's not just tackling. Bravery is also taking the ball when you are losing the game and trying to create things. That's what I try to do.
"I was surprised that it came out. I've obviously spoken to him on numerous occasions about different things when I wasn't in the team, private things, but the only thing I can do is keep playing well."
Rodgers warned both Downing and left-back Jose Enrique, a £7m signing last summer, that they needed to show more commitment.
"Stewart is a good guy but it hasn't quite worked out for him as he would want it," said the former Swansea boss.
"You have to work hard; you have to fight for the shirt. I will keep private the discussions Stewart and I have had but he is under no illusion that he has to fight."