Jill Scott column: WSL has had no second-season syndrome

By Jill Scott
Everton and England midfielder
Last updated on .From the section Football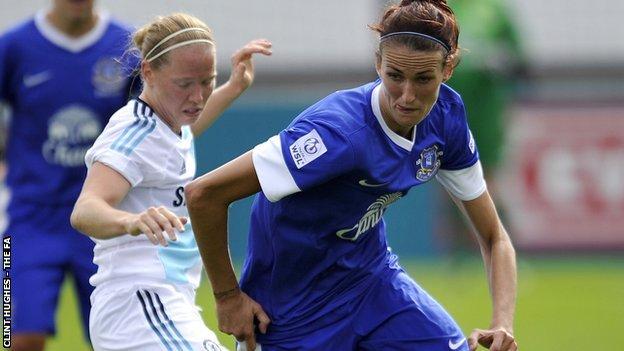 Now that the Women's Super League has come to an end, another success for Arsenal Ladies might look like the same old story but there has been lots of progress in the league's second season.
In many ways it has been historic, given the achievements of Team GB at the Olympics, but the rise in exposure of women's football shows the league has been a success so far and now we have to build on it.
From a personal point of view, the highs of the Olympics have been followed by disappointment for Everton as we again finished third, therefore missing out on a Champions League spot by a point behind Birmingham.
And I might have to have a re-think about the amount of travelling I'm doing between my home in Sunderland and Liverpool.
Driving 200 miles each week takes quite a lot out of you and I need to make sure that tiredness doesn't affect my performances or training.
It would be nice to have family, work and football all in one place but I suppose these are the sacrifices that you have to make like a lot of the girls have done!
For Everton, this season has been an exact replica of last year.
We again started poorly, and picked it up again after the break for the Olympics as we did the previous season, but we still know we are a long way off Arsenal.
A lack of goals has been our biggest problem. In some games we create five or six chances but when we miss the first couple it seems to have a knock-on effect and suddenly we are danger of losing the match.
It's certainly something we need to sort for next season if we want to break into the top two places but at least this term we have improved our points tally.
Better pitches have been a big difference in the WSL this season, attendances are up, and with new players coming into the league from America, the standard of play is improving too.
I have to admit, though, that while having a break in the middle of the season has been good for the national team at the World Cup last year and the Olympics this season, it is sometimes difficult to motivate yourself after a big tournament.
That's only natural I think, but despite the stop-start nature of the season the summer move for women's football has been a good one.
Next season is the last one before the league looks to expand and while I wouldn't say it's boring playing the same teams all the time, it would be good to have a bigger league.
I've heard that Manchester City are looking to be involved, having linked up with the men's team and I know Sunderland, who won the Premier League, will be putting in a bid to join the WSL's eight teams.
There is also talk of the American league reforming, but I hope that with the calibre of players arriving here this season from the United States such as Arsenal's Kelly Smith and Bristol's Laura Del Rio Garcia, hopefully we can attract more as opposed to them going the other way.
With England qualifying for the 2013 European Championship, next season will be no less important than the previous two and hopefully we can go one better than last time and win it.
Our friendly against France on 20 October should give us a good bearing on where we stand.
Jill Scott was talking to BBC Sport's Alistair Magowan